Granule packaging machine for 5-50kg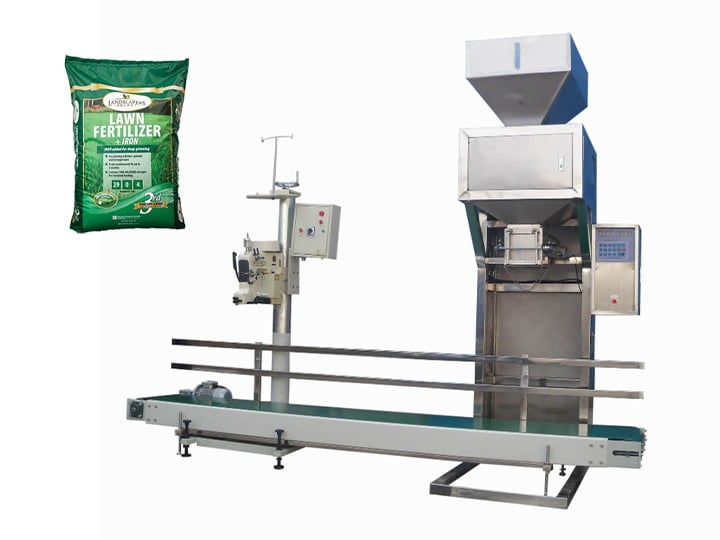 The brief introduction of granule packaging machine for 5-50kg
5-50kg granule packaging machine is mainly used in grain, such as corn, wheat, rice, etc.; fertilizers, such as organic fertilizers, compound fertilizers, and other mixed fertilizers; chemicals, such as polyethylene, PVC, PE, PP, and other granular materials packaging.
Bags are generally divided into two kinds, plastic bags or woven bags, the machine can be packaged in two kinds of bags, the only difference is the sealing machine each different. Plastic bags are packaging using a heat sealing machine, while woven bags are used for a sewing machine.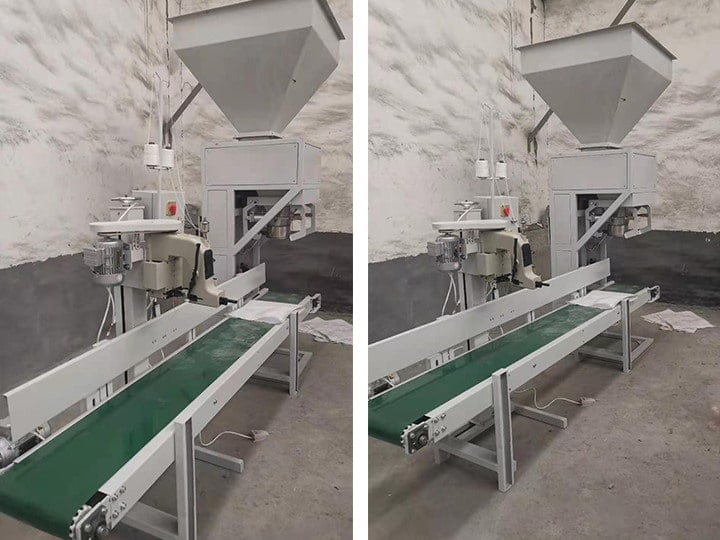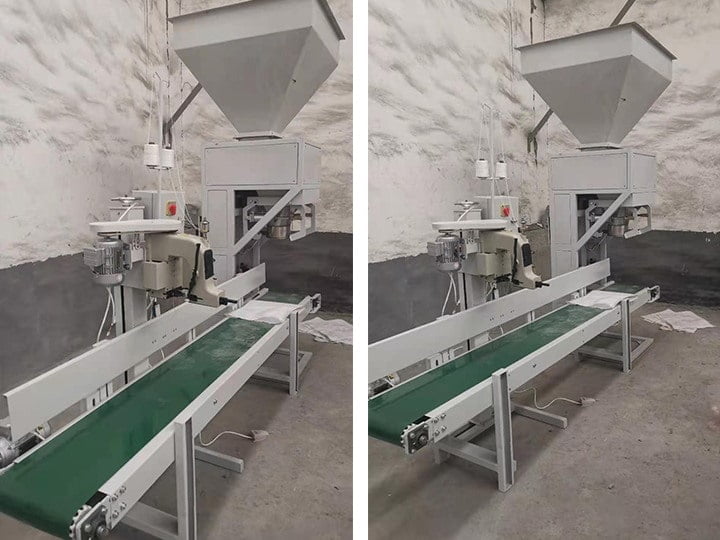 The working process of 5-50kg granule packing machine
Packing form display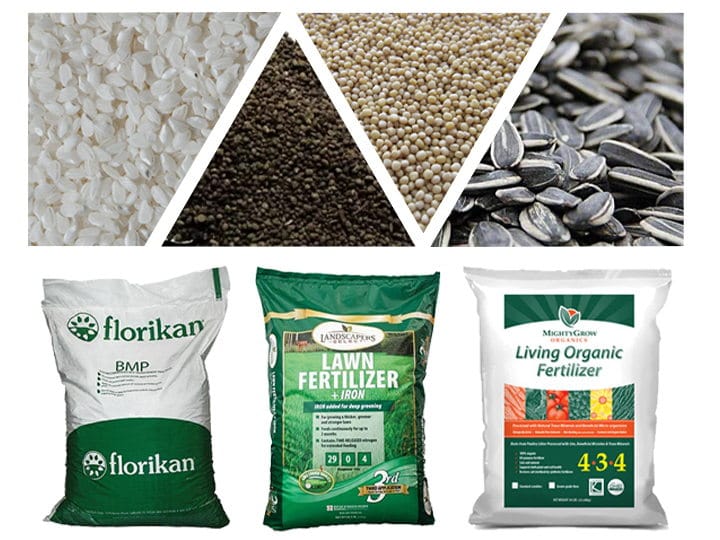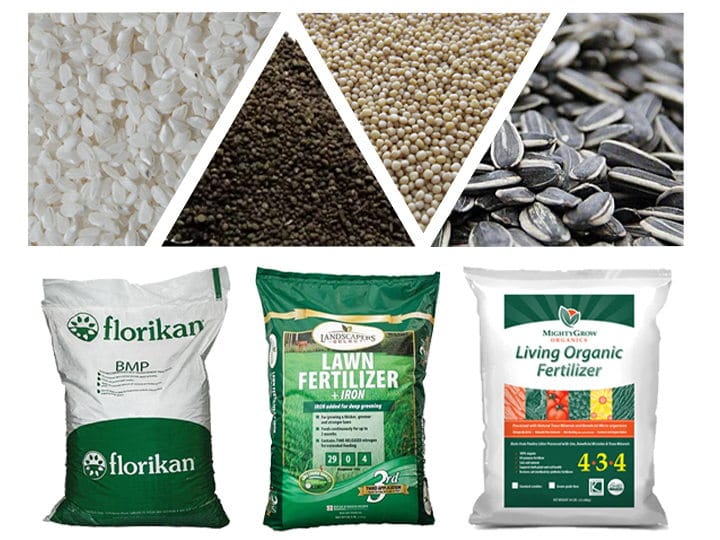 The structure of granule packing machine for 5-50kg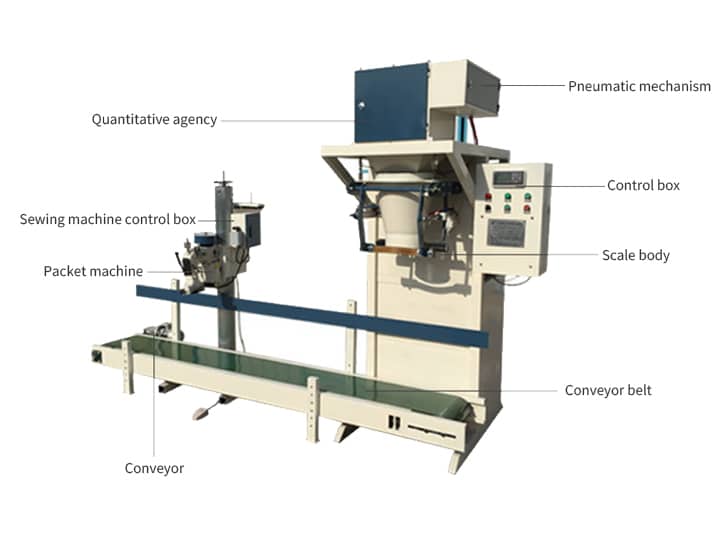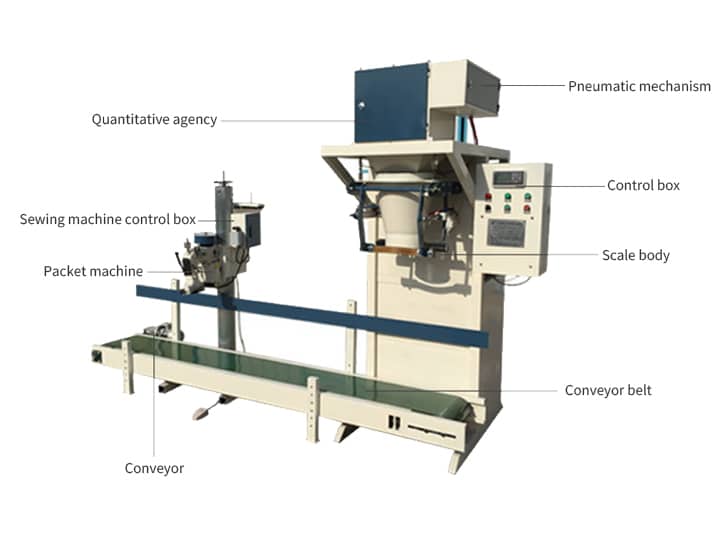 The design features of packing machine for large granule
This machine adopts intelligent control system, touchable display ,and supports multiple national languages. It automatically calculates to ensure that the quality of each blanking is consistent.
Automatic belt-clamping design and conveyor belt saves labor and effectively improves production efficiency.
Materials touched by the use of 304 stainless steel, durable, strong, clean and hygienic
Sealing machine and sewing machine with good quality, firm sealing, stable and no air leakage
FAQ
If I want to pack granules larger than 50kg, can I use this machine?
This machine is designed to pack granular items from 5 to 50 kg, if you have a need for this, our factory has an automatic packaging machine for large quality granules, you can contact us for more detailed information. We also have machines which are suitable for small quality.
Is the sealing machine sold with the machine?
Yes, it is equipped with a sealing machine or sewing machine according to the type of bag. Of course, if you have already purchased a sealing machine, you can also buy it separately.
How is the accuracy of the machine packaging?
The machine is designed reasonably, adopts the most advanced PLC control system, and has an accuracy of ±0.2.
Packing and shipping
Because our machines from Taizy Company are sold all over the world, most of them are shipped by sea. We will check the quality of the machine carefully before delivery, and set the parameters in advance, and take a video of the machine in use for customers' reference. Considering the weather and other uncontrollable factors in the transportation process, we will wrap a layer of film around the body length of the machine to prevent the machine from moisture in the transportation process, and we will also professionally customize the wooden box for the machine with multiple protection to ensure that the machine will not be damaged in the transportation process.