Saffron, milk powder packing machine | Inclined powder packing machine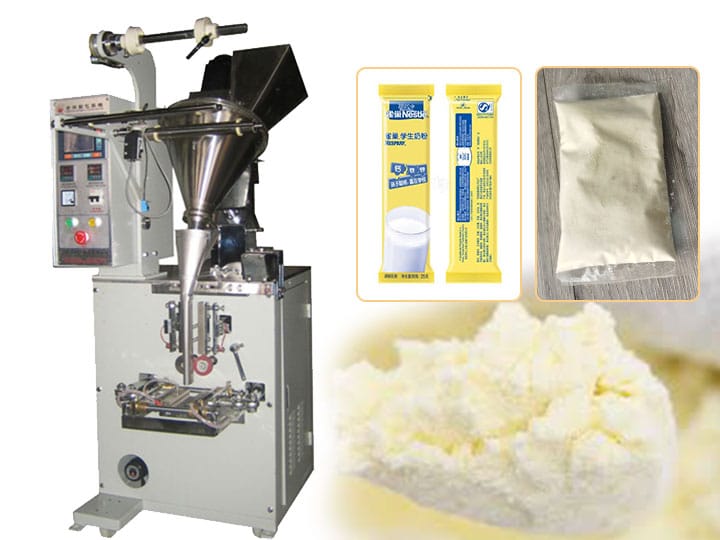 The application area of the milk powder packaging machine
This type of milk powder packing machine has a wide range of applications, in the packaging of dry powder materials for food, chemicals, daily necessities, and skincare products. This inclined powder packaging machine can complete the automatic measurement and packaging of powders such as milk powder, soy milk powder, sesame paste, lotus root powder, dyeing powder, seasoning powder, and medicinal powder. It suits for packing free-flowing powder and its maximum packing weight is 80g.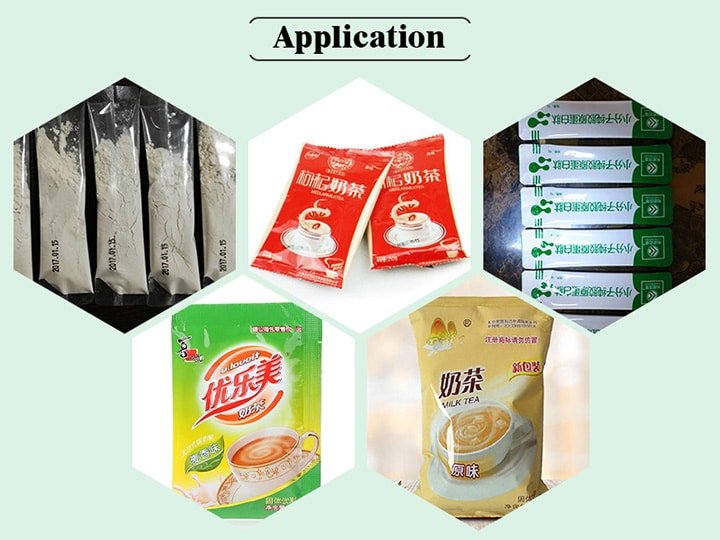 Structure of the milk powder packing machine
The inclined powder packaging machine is mainly composed of a hopper, former, automatic weighing device, sealing device and English PLC screen, electric eye tracking. The machine is all made of stainless steel, and the part in contact with the material is made of 304 stainless steel. It adopts a PLC control screen and an English display area. It is intelligent. The whole machine is easy to operate, accurate in weighing, and fast in counting.
This product is suitable for automatic bag packaging machines for powder products. The inclined crew powder packaging machine can automatically complete the work of measuring, filling, sealing, and cutting.
The milk powder packaging machine is also equipped with a reliable photoelectric detection system. When packaging materials with photoelectric marks are used, the packaging can be accurately cut.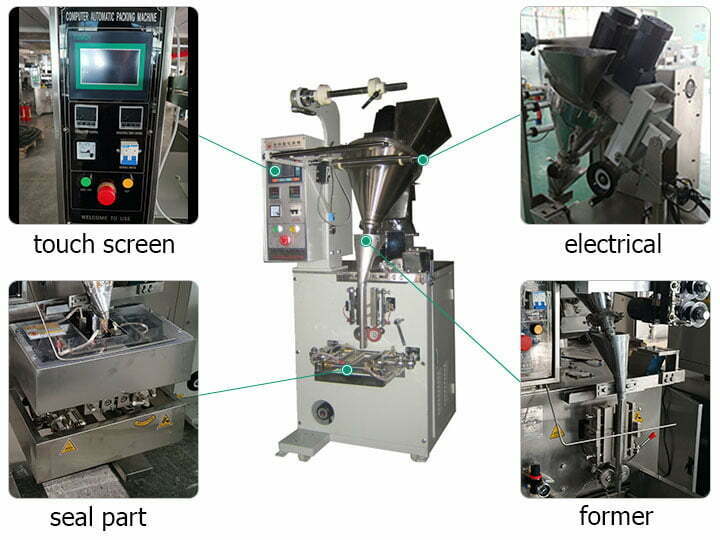 Technical parameters
| | |
| --- | --- |
| Model | TZ-320 |
| Packing style (Bag style) | 3-side seal /back seal / 4-side seal |
| Packing speed | 20-80 bag/min |
| Power Consumption | 1.8kw |
| Material | 304 stainless steel |
| Weight | 250kg |
| Dimensions | 650*1050*1950mm |
| Packing weight | 0-100g |
| Bag width | 20-150mm ( replace bag former) |
| Bag length | 30-180mm adjust |
Advantages and characteristics of milk powder packaging machine
This machine is equipped with dual English PLC display screens, and the operation interface is friendly.
2. The inclined powder packing machine is also equipped with automatic cursor detection and tracking, and the cutting is accurate.
3. Adopt the oblique screw feeding method, which can directly adjust the packaging weight during the packaging process. By adjusting the screw, the weight of the package can be changed. Therefore, there is no need to stop the adjustment process, which effectively improves work efficiency.
4. It can be equipped with a coding machine, ventilation, exhaust, and dust removal devices.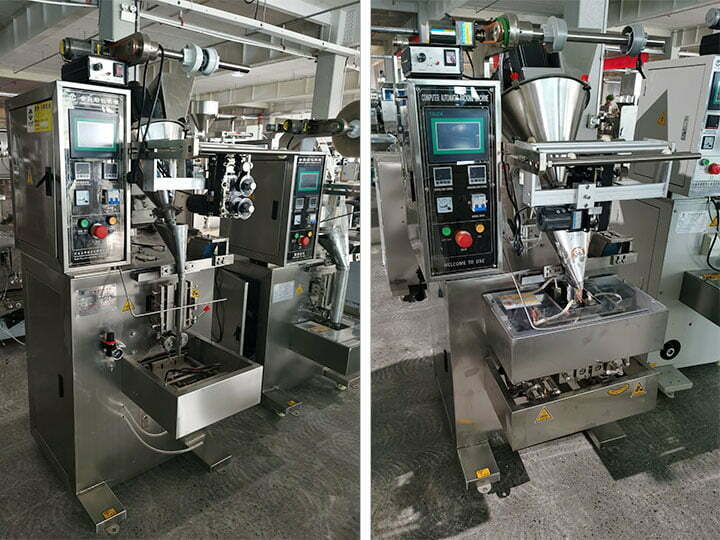 Production control
The workers in our Taizy company factory are all experienced masters, and they have a better understanding of the structure of every part of the machine. They have a good master of professional welding technology. A professional product quality inspector will visit the worker's machine from time to time to check the work progress and work results. In addition, They will also check welding and coating procedures. After checking, they will record the inspection results of the machines. The result that meets the requirements will not be put into storage until it is judged as qualified.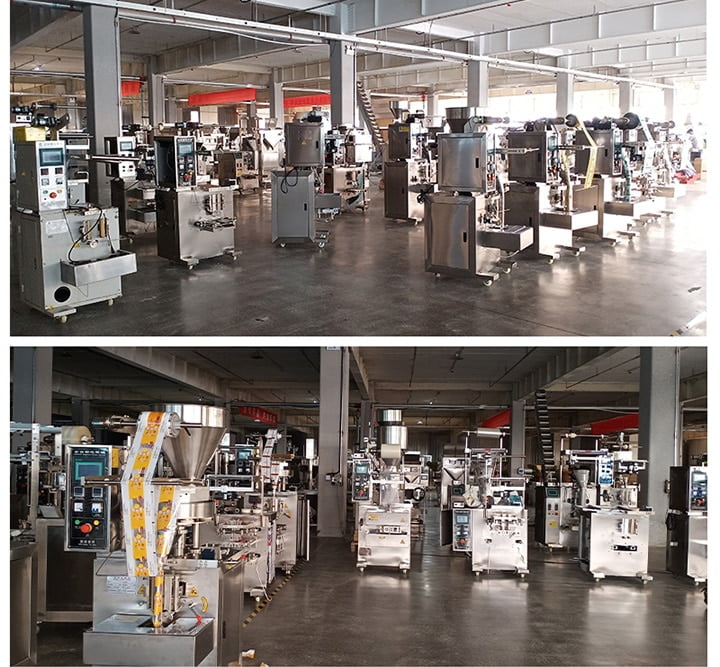 Optional devices for milk powder packing machine
1. Coding device: The ribbon coding machine prints clearly and is not easy to erase. It is hygienic and clean. We don't need to worry about oil pollution
2. Add a tear in the bag seal to make the bag easier to tear.
3. Punching device: Punch holes of various shapes on the edge of the bag, which is convenient to hang on the shelf and easy to display.
4. Bag-connecting device. Any number of bag-connecting devices can be set to meet consumers' needs.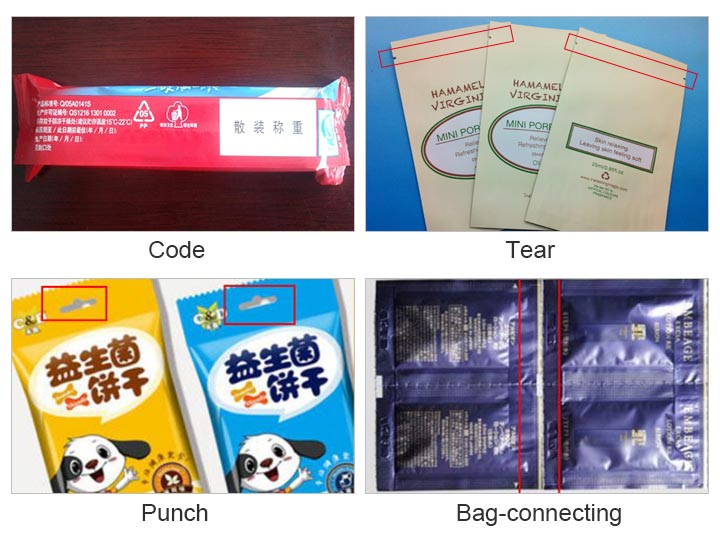 Toolboxes
The powder packaging machine like the flour powder packer is equipped with a toolbox. The toolbox includes a cutter, a heating tube, a temperature-sensing line, a relay, and a film drawing wheel. Heating pipes, thermocouples, screwdrivers, adjustable wrenches, brass brushes, ordinary brushes, hexagonal wrenches, screwdrivers, and other accessories and tools will also be delivered to you.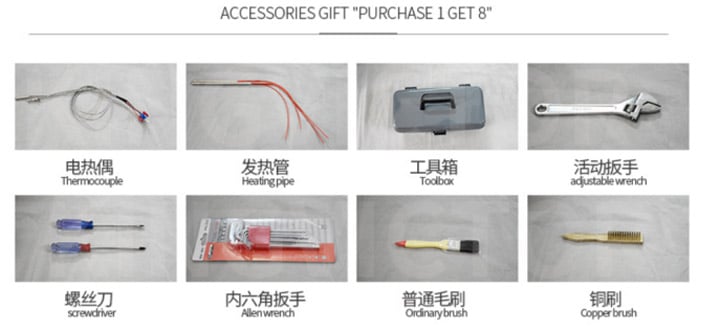 Case
In January, our powder sachet packaging machine was sold to Pakistan. The customer tested and operated the machine. He is very content with the efficiency of the machine and the packaging effect. Also, the customer said that his customers are content with the powder packaging machine. He expressed his sincere thanks to us. We promise that we will give customers the most satisfying purchase service experience. If you encounter problems in use, you can contact us at any time. Our technical consultants will propose professional solutions for you to help you. Moreover, we have been engaged in packing machine export for 10 years, and we are professional and reliable.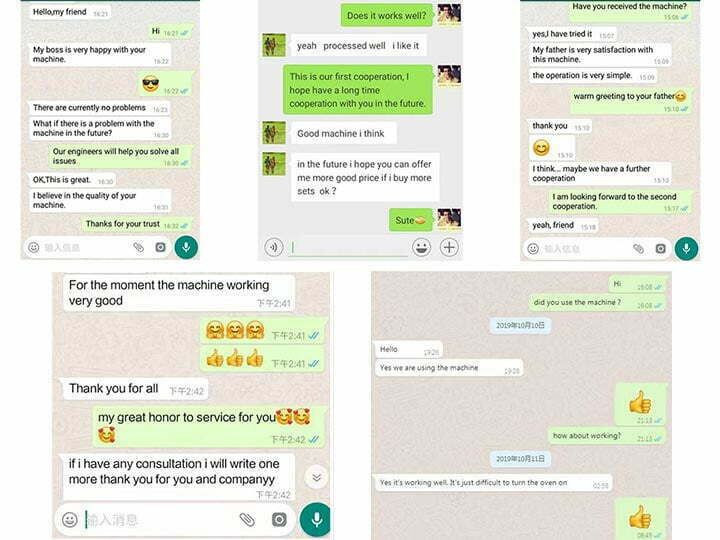 Q&A
1.If the milk powder packing machine has a problem, how to solve it?
You provide a feedback video to us, we will check what happened.
When a problem with the machine arises from an improper operation, we will provide the parts for their original price for you. If not by man's inappropriate behavior, we will provide parts for free. Throughout the process, we will provide a 24-hour online service to teach you how to replace parts, etc.
2.What is the packing form of the machine in the shipment?
Machines are wrapped in plastic film first before packing, which is to avoid moisture on the sea.
if necessary, we will put the machine in a wooden case free of fumigation, lined with metal wire.
We have a strict quality control system. Before shipment, we will take photos and videos for you.
3.What is the voltage of the inclined screw powder packing machine?
We will customize the voltage for your country.
4.How long is the warranty period?
We supply 24 months quality warranty. At the same time, we provide lifetime maintenance. If you have a problem, you can contact us.
5.How to install and use the milk powder packing machine?
English Manual and video teaching will help you to operate the machine. You can also contact our technical workers to help you.
6.How long can I receive the machine after payment?
This powder packing machine is full in stock. So, we will send the machines to you q after your payment.