Semi-automatic liquid filling machine| Filling orange juice, beverages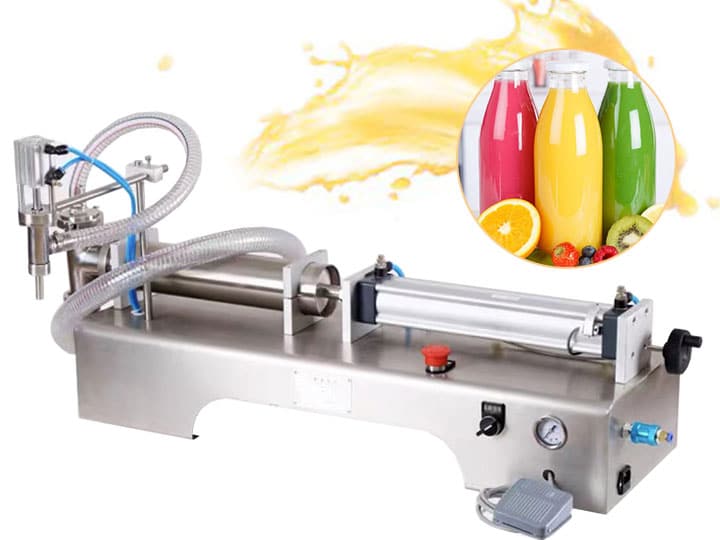 We have two types of semi-automatic filling machines. One is a semi-automatic liquid machine, the other is a semi-automatic paste filling machine. They have different applications. This passage will make detailed instructions about the former.
Application field of semi-automatic liquid filling machine
This equipment is widely used in the quantitative filling of liquids in the industries of medicines, food, beverages, daily chemicals, oils, chemicals, condiments, additives, etc. For example fruit juices, beverages, liquor, syrups, edible oils, flavors and fragrances, oral liquids, shampoos, shower gels, hand sanitizers, disinfectants, detergent, lubricants, brake oils, antifreeze, pesticides, Herbicides, and so on. This semi-automatic liquid filling machine has a fast filling speed and accurate weighing. It is the best choice for small and medium filling.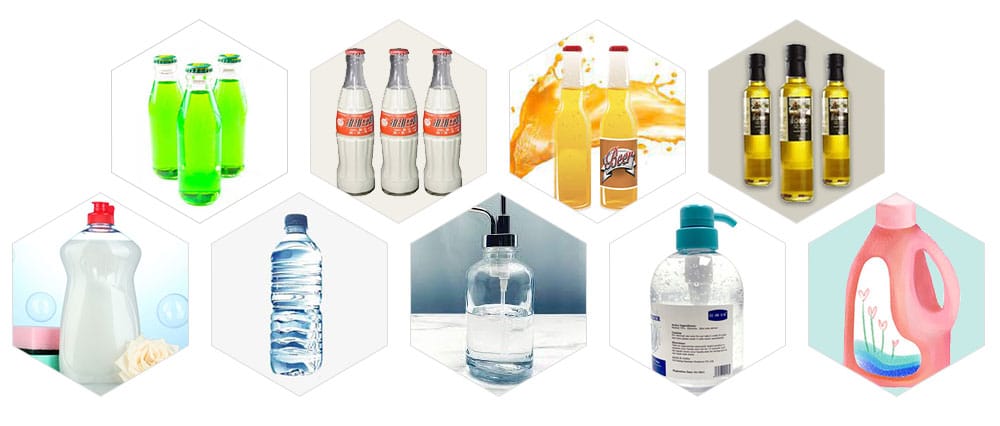 Working principle of semi-automatic liquid filling machine
The semi-automatic filling machine is a semi-automatic piston filling machine. A piston is driven by a cylinder to extract and eject materials. A one-way valve can control the flow of materials. And a reed switch can control the stroke of the cylinder. In this way, the filling volume is adjustable.
The structure and characteristics of semi-automatic liquid filling machine
The liquid filling machine is a semi-automatic piston type. It has a reasonable design, compact model, and convenient operation;
The parts in contact with materials use 304 stainless steel. This material meets GMP requirements.
The filling volume and filling speed is adjustable. And the filling accuracy is high.
The filling bulkhead adopts anti-drip, anti-drawing, and lifting filling devices
A piston is driven by a cylinder to extract and eject materials. A one-way valve is used to control the flow of materials, and a reed switch is used to control the stroke of the cylinder. In this way, the filling volume can be adjusted.
This liquid filling machine can be converted into a multi-head, explosion-proof, overflow filling system.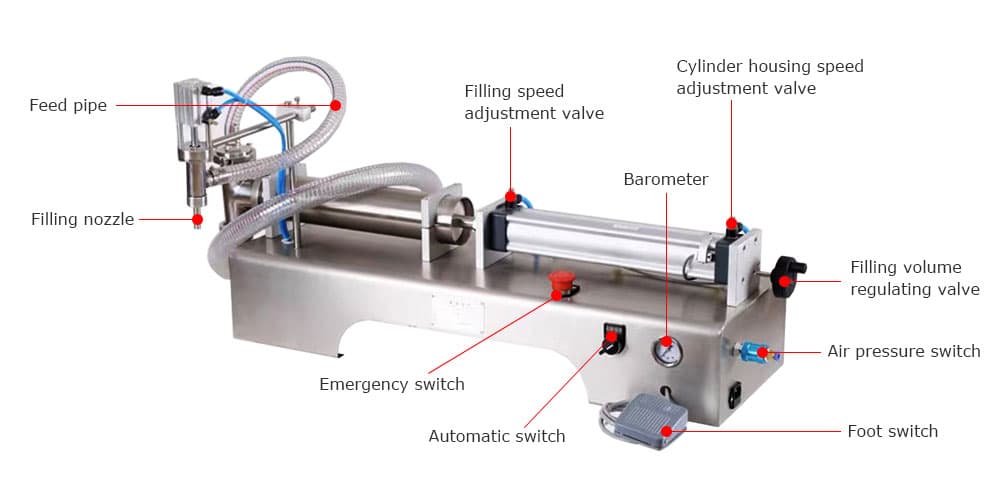 Model and filling volume range of semi-automatic liquid packing machine
| | |
| --- | --- |
| Mode50 | 5-50ML |
| Mode100 | 10-100ML |
| Mode300 | 30-300ML |
| Mode500 | 50-500ML |
| Mode1000 | 100-1000ML |
| Mode2500 | 250-2500ML |
| Mode3000 | 300-3000ML |
| Mode5000 | 500-5000ML |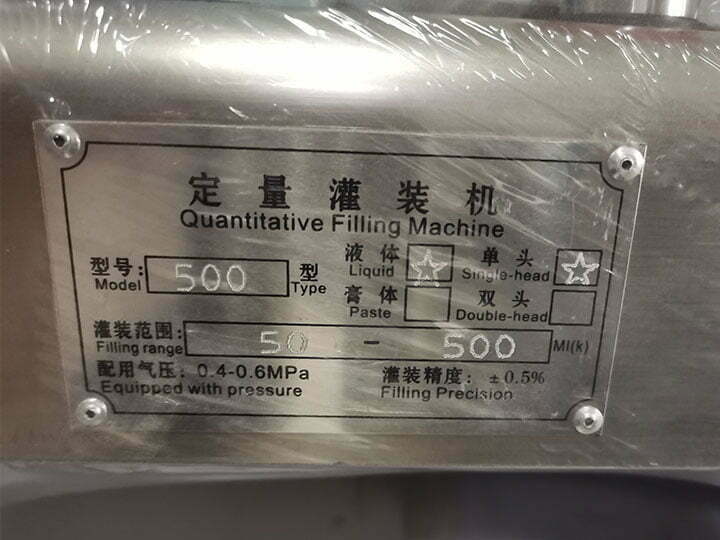 Technical advantages
1. Since the filling material of this liquid filling machine is usually liquid or viscous liquid, it is easy to be damp, therefore, the body is made of a combination of stainless steel and aluminum alloy, which is not easy to rust even in a humid environment and guarantees the material Of hygiene.
2. The machine uses a dual air pressure control system, which is especially suitable for use in an environment with explosion-proof requirements, and has high safety;
3 When the machine needs to stop when filling injection, toner, syrup, etc., just turn off the pneumatic switch, the piston will automatically return to the initial position, and the filling will stop.
Machine details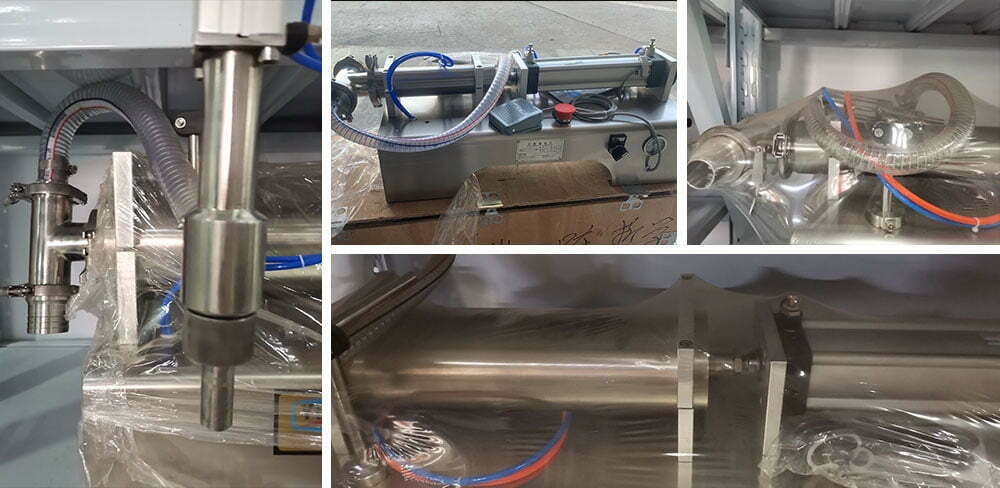 Machine display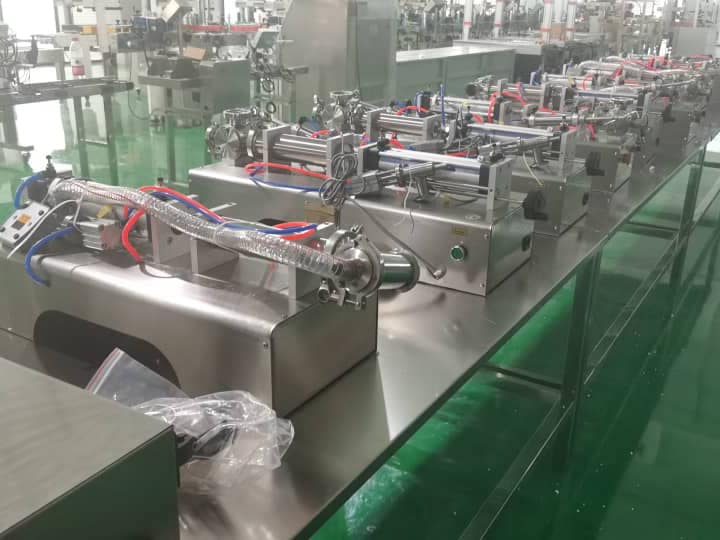 Optional device
In Taizy company, you can also opt the other devices to realize your different demands.
The hopper can be equipped with a heating device. If you need it, you can equip the machine with a liquid heating device.
The hopper can be equipped with a stirring rod. The stirrer can mix the liquid evenly.
All machines are equipped with air compressors. It can ensure the safe and accurate filling of liquids.
Sealing device. Vacuum sealing device or other kinds of sealing machine.
Coder. Ribbon coders, inkjet coders, laser coders, and other coding machines.
You can configure multiple nozzles for the packaging machine. This can increase the filling speed.
Warm tips during operation
Before cleaning, you must check whether the compressed air is turned off. If you haven't turned it off, please turn off the compressed air;
It is strictly forbidden to use organic solvents to clean the machine, such as xylene, banana water, sodium hypochlorite, etc.;
After cleaning all the parts of this semi-automatic filling machine, you should begin to instill the parts until they have been dry. And make sure that no water and other sundries enter the machine;
Use the power and gas source that meets the requirements;
You should turn off the air source and power supply firstly. Then disassemble and wash the semi-automatic quantitative filling machine;
After turning off the power switch, there is voltage in some semi-automatic liquid filling machine circuits. Therefore, you must cut off the main power in case of failure to repair.
Cleaning and maintenance
1: Before cleaning the semi-automatic liquid filling machine. You should clean the remaining liquid materials in the machine. Then fill the tank with cleaning fluid. You'd better use warm water, alcohol, soapy water, or other cleaning fluids if necessary;
2: When cleaning, make sure that the O-ring is installed properly. Then turn on the machine and let the machine circulate filling until all parts in contact with the material are cleaned thoroughly. These include piston cylinders, piston heads, O-rings, one-way valves, filling heads, barrels, hoppers, etc;
3: Clean all sealing rings of this semi-automatic filling machine. You should clean the O-ring of the piston and the flat sealing ring of the valve. Moreover, replace the cracked and damaged sealing ring.
Shipment
All liquid packing machines are wrapped in plastic film before packing. And it will avoid moisture in the sea. The machines are put in a wooden case which is free of fumigation, lined with metal wire if necessary. All machines undergo strict expectations before shipping. And we will take video and pictures of the shipment for you.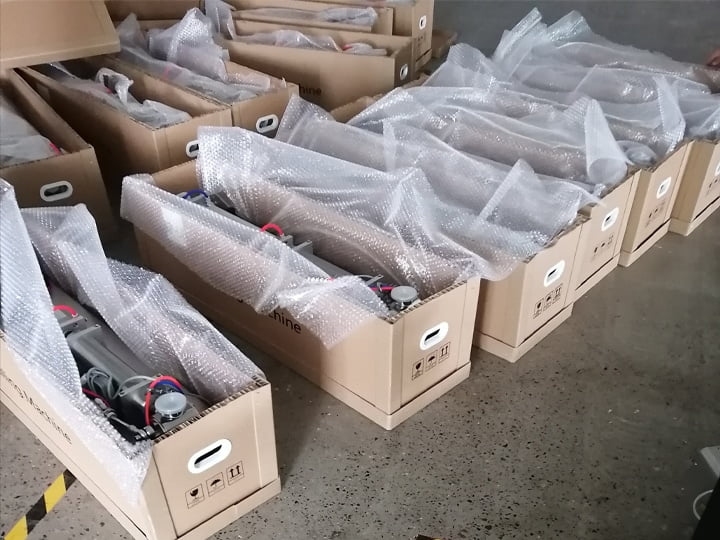 Q&A
What is the price of the semi-automatic liquid filler?
All types of filling machines can be customized, so the prices are also different. We will determine the final price according to the details.
What liquid can be filled?
Liquids with relatively good fluidity, juice, beverages, milk, tea, laundry detergent, water, and other liquid materials.
What type of packaging does filling liquid use?
Various types of packaging such as plastic bags and bottles can be used. Usually, the bottled form is more common.
How many materials can be packed?
There are eight models of semi-automatic liquid packaging machines. The packaging volume ranges from 5-5000ML.