Continuous sealing machine for sale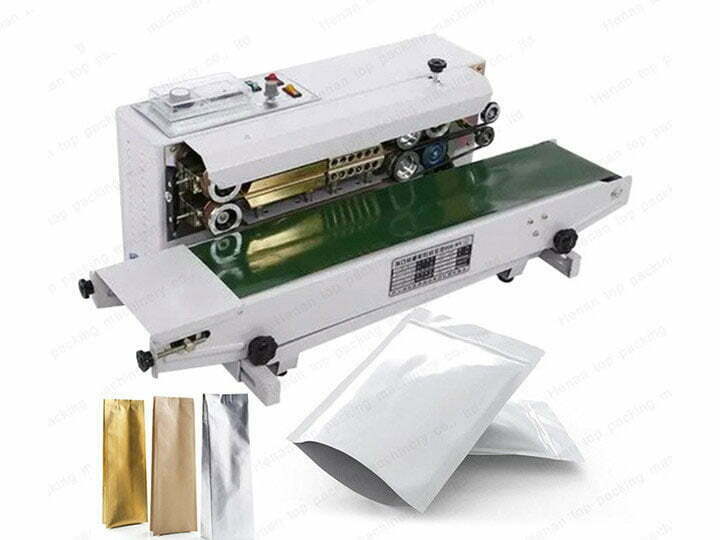 What is a continuous sealing machine
A continuous sealing machine is used to seal bags of powders, granules, liquids, etc. This band sealer is novel in structure, simple in operation, and complete in function, pushing and sealing at one time. It has a high degree of automation, which can significantly reduce the workload of workers.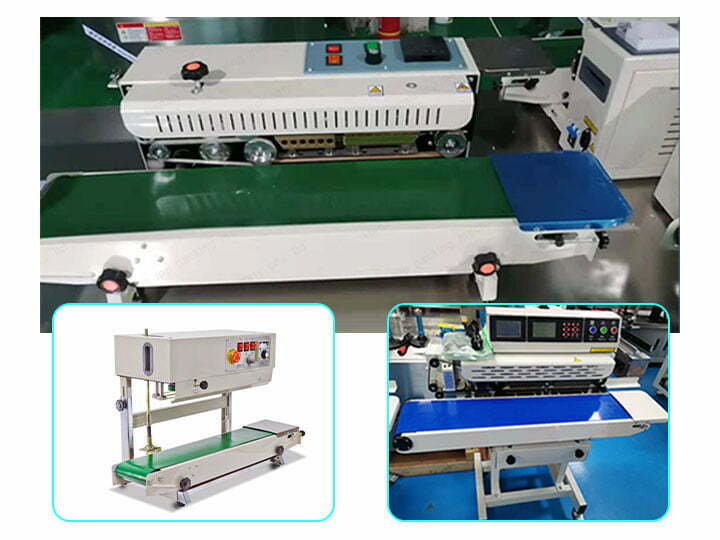 How does a continuous band sealer work
Machine parameters
| | |
| --- | --- |
| Voltage | 220V/50HZ/0.65KW |
| Maximum load of conveyor table | 10kg |
| Sealing speed | 0-12bags/min |
| Dimensions | 815*645*305mm |
What kind of bags can the continuous band sealer be used to seal
In fact, our machines are suitable for sealing thermoplastic materials (PP, PE, laminates) of any size and length. We offer both horizontal band sealers (where the bag is flat on the conveyor belt) and vertical band sealers (where the bag is in a standing position on the conveyor belt). Our band sealers can be used in a wide range of applications and industries, such as pharmaceutical, food, agriculture, daily chemical, etc. Besides, you also should notice the bags used for the vacuum sealer, granule packaging machine for 5-50kg.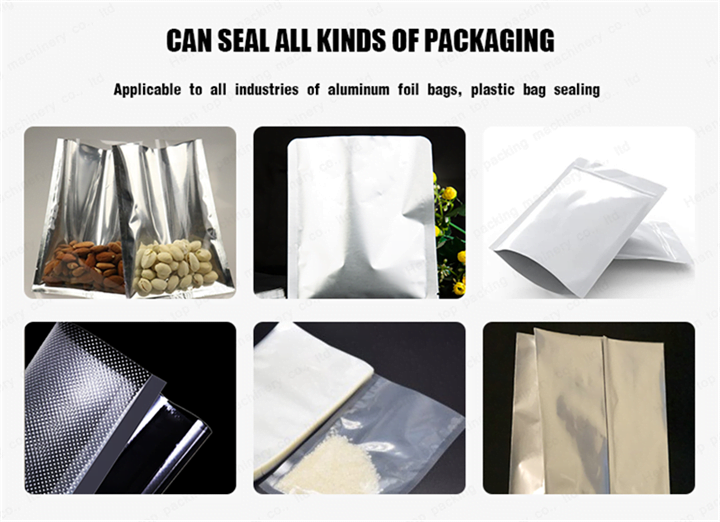 The structure of the continuous sealing machine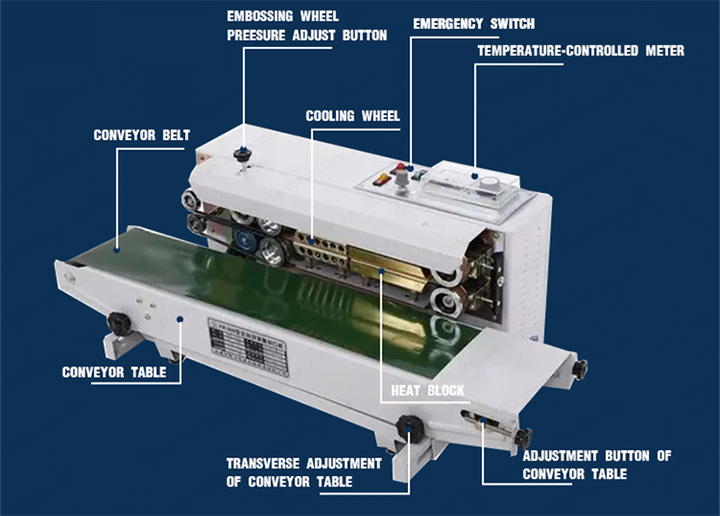 The details of the continuous band sealer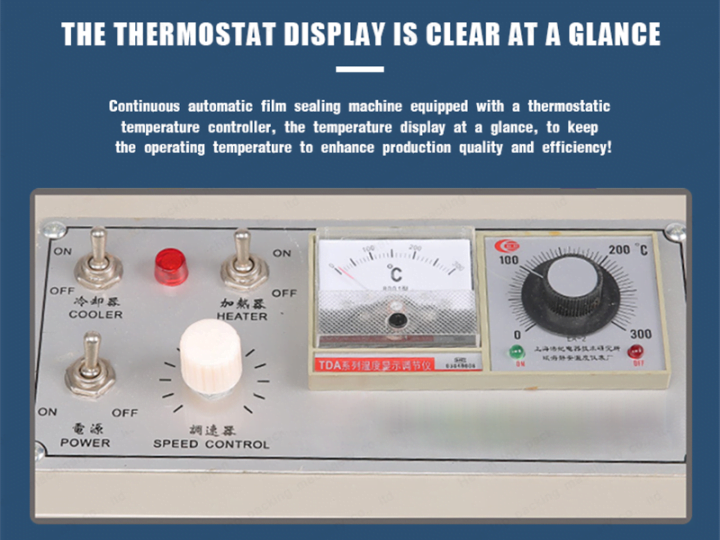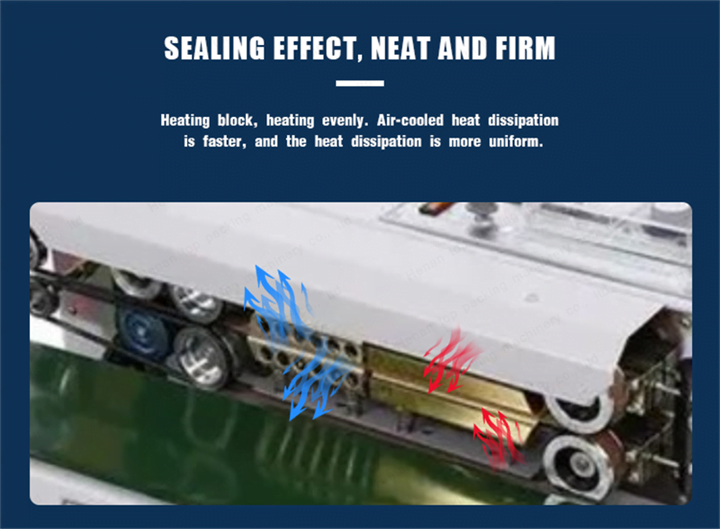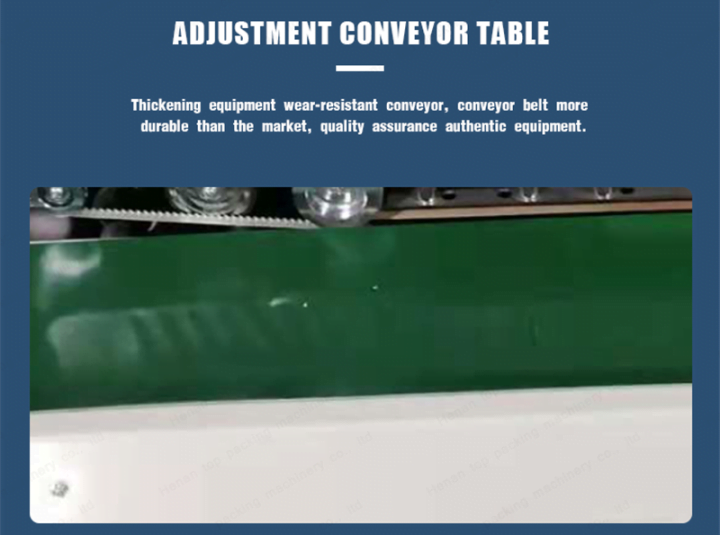 Why do we need a continuous sealing machine
In Taizy Company, our continuous sealing machine has the following advantages:
The body is made of stainless steel, with beautiful appearance and strong stability. Small machine size makes it easy to maintain and portable.
The operation panel is simple and easy to operate, and the temperature can be adjusted at any time.
The heating block and cooling block of the machine are made of pure copper block. The pure copper heating block makes the bag sealing area heated evenly, and the cooling block dissipates heat with cold air to help the sealing set quickly. By the way, the heating block is attached with a heat insulation cloth, so there is no need to worry about the melting of the bag due to the high temperature.
The metal embossing wheel seal is firm and beautiful, and the pattern is clear and the indentation is flat. Ink wheel with printing wheel can meet the manufacturers' needs for printing the production date and shelf life, etc.