Yogurt cup filling and sealing machine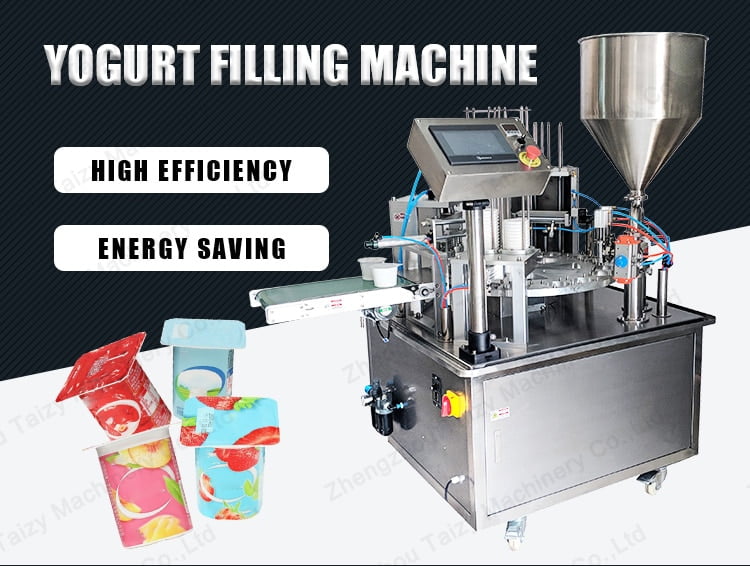 The brief introduction of yogurt cup filling and sealing machine
Yogurt filling and sealing machine is a packaging machine designed for beverage cup sealing. It can complete the process of automatic cup dropping, automatic filling, automatic film sealing, and automatic cup discharging. Easy to operate, stable performance, easy to maintain. It can be used as a stand-alone machine or connected to the production line.
The working video of yogurt packaging machine
Applications of yogurt cup filling mad sealing machine
Automatic rotary filling and sealing machines for Packaging Solutions offer a competitive filling and sealing solution for liquid,semi-liquid and pasty food products. For example, oil, yogurt, fresh milk, milk tea, cosmetics, hair care products, fruit drinks, carbonated drinks, etc.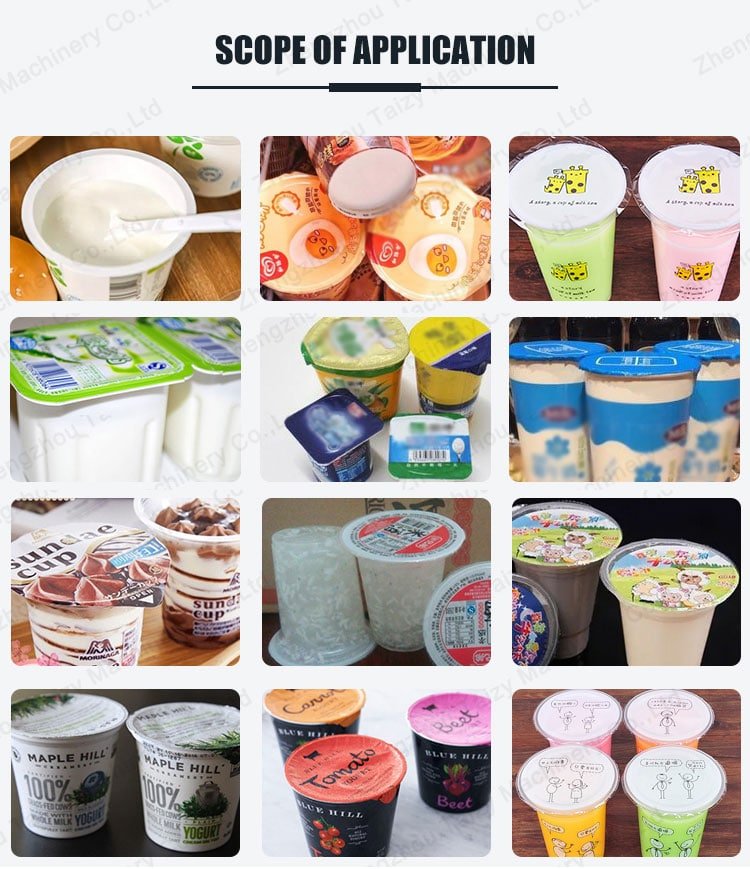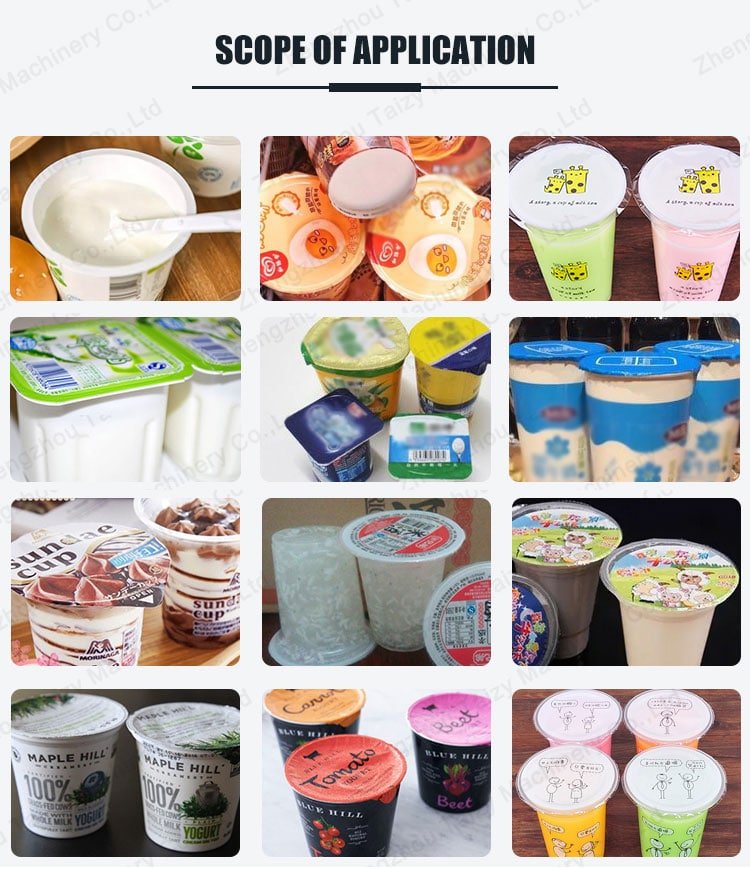 Technical parameters of KIS-1800
| | |
| --- | --- |
| Power | 220V/1200W |
| Speed | 800~900bottles/h(1600~1800bottles/h) |
| Pressure | 0.5MPa-0.75 MPa |
| Maximum air consumption | 0.45m³/m |
| Weight | 350kg |
| Machine size | 100*80*120 cm |
The design features of automatic rotary filling and sealing machine
The automatic rotary filling and sealing machine is fully functional and the smallest fully automatic machine with small space occupation.
The whole machine is made of stainless steel and aluminum alloy, sturdy and smooth, not easy to rust.
Advanced plc control system with display, support multiple languages. It is easy to understand the operation.
The electric eye automatically tracks and corrects the sealing position for precise film printing alignment.
Accurate filling quantity, automatic feeding by liquid level control of storage drum, automatic cleaning of the drum, and filling the pipeline by CIP. All piping meets food grade sanitary regulations.
The machine will stop automatically when it detects no cups to be filled and will start automatically when the cups are refilled.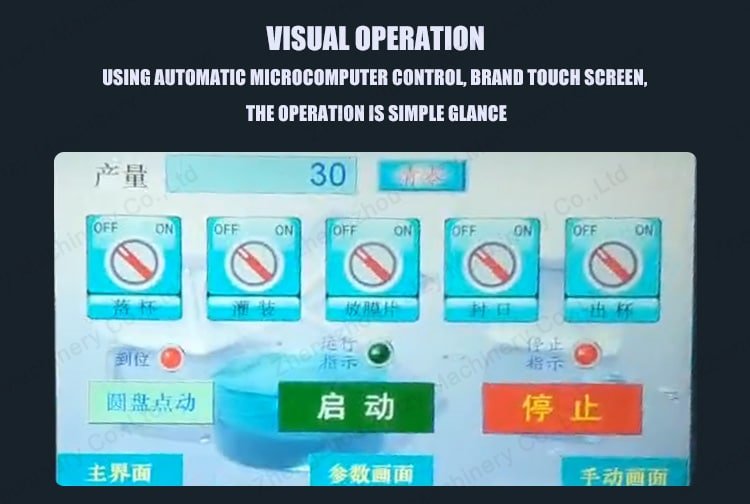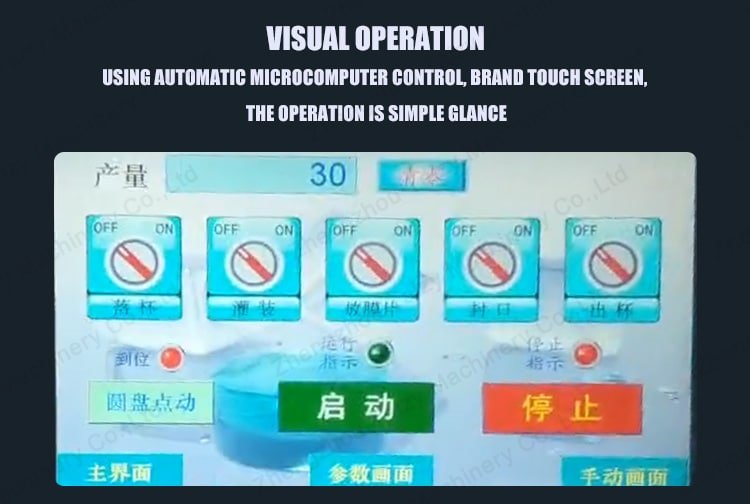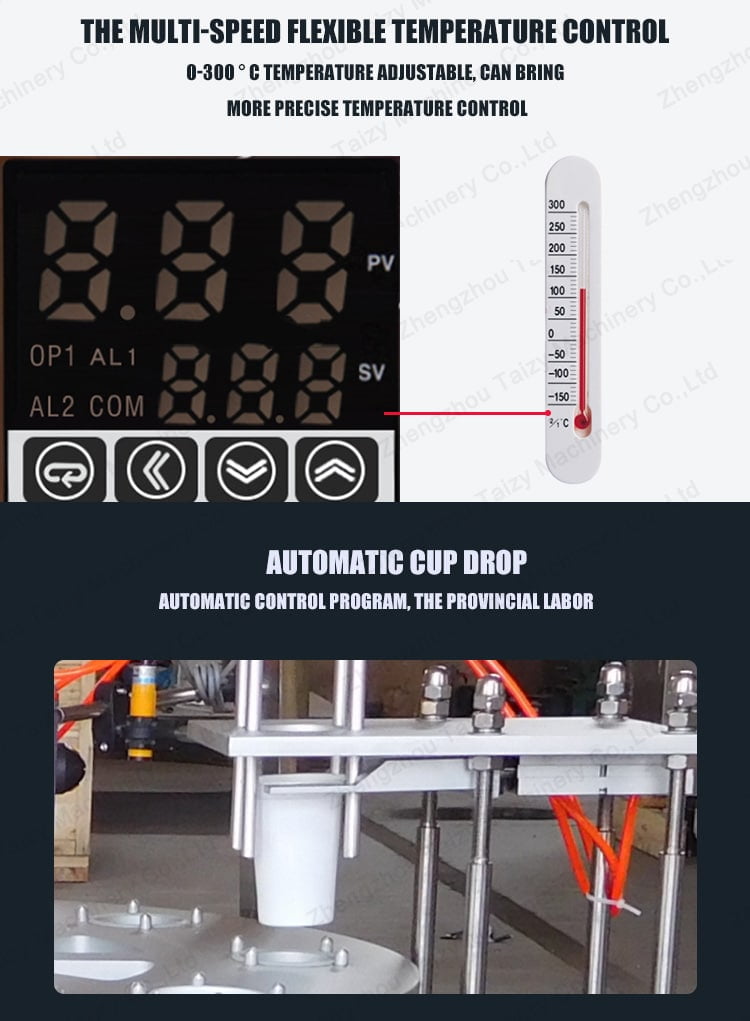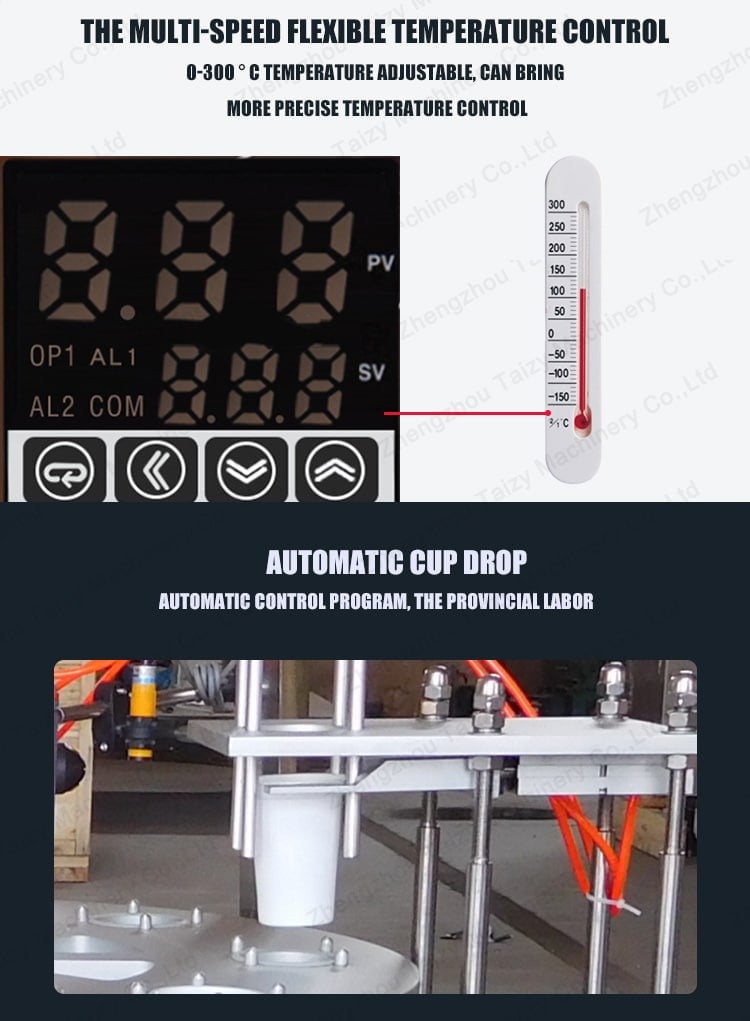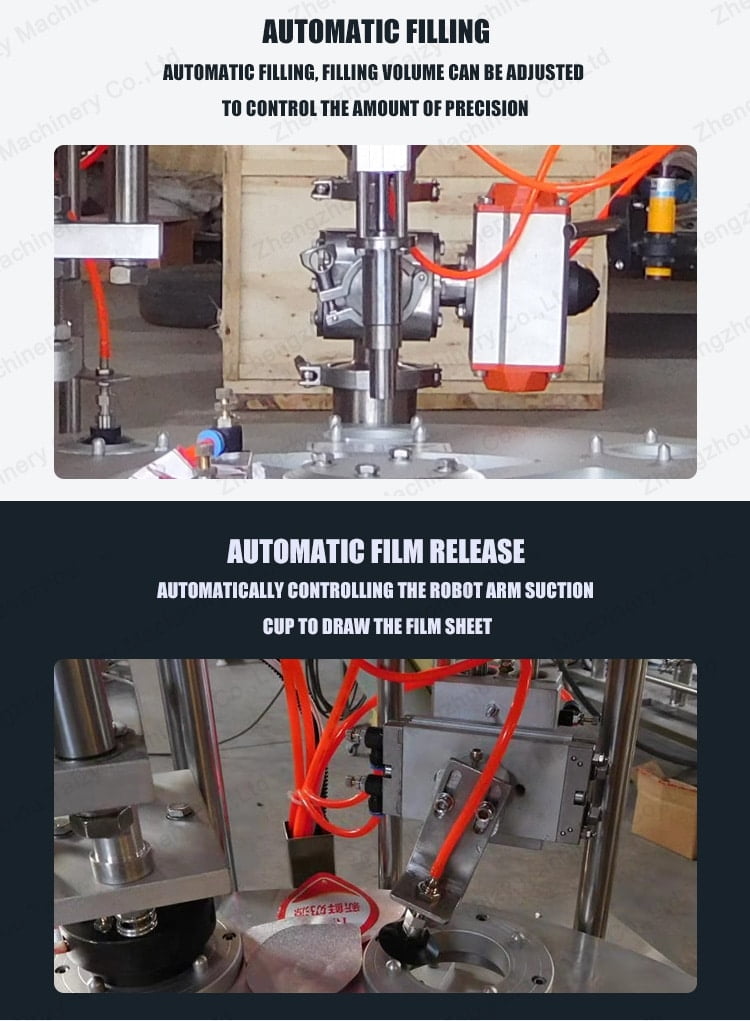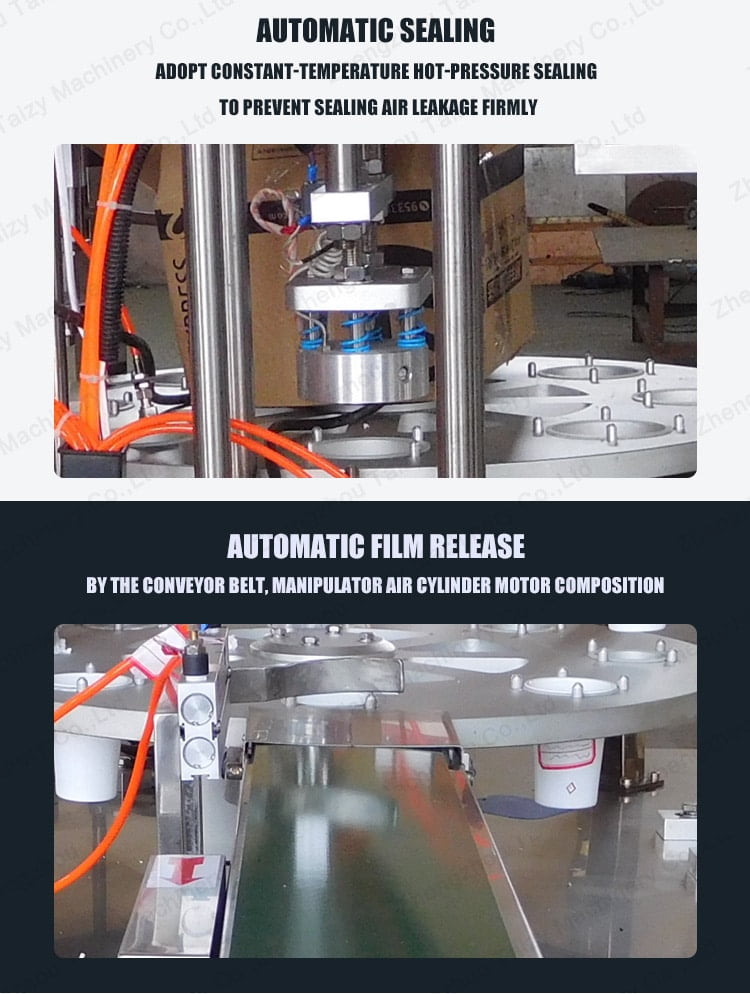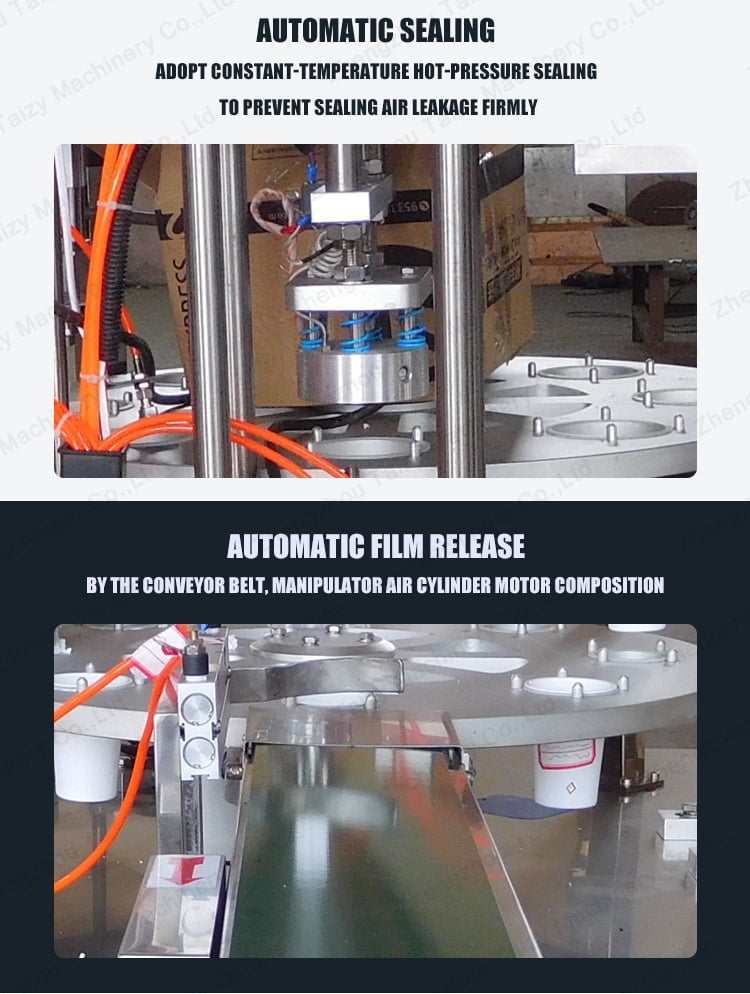 About us
Our automatic rotary filling and sealing machine is a fully automatic packaging line that integrates cup feeding, filling, sealing, and cup discharging automatically. This machine is made of stainless steel body, which meets the sanitary requirements and is easy to clean and wash. It is suitable for sealing cups of creams and other products, and for sealing plastic cups, paper cups, aluminum, and other cups and boxes. As a strong packing machine manufacturer and supplier, our series of products have more than ten years of production experience. With the advanced technology and the whole machine adopts the control system and pneumatic components from Japan, Taiwan, and domestic famous brands, which has the characteristics of low failure rate, stable operation, and long service life. Besides, we provide granule packing machine, powder packing machine, tea packing machine, etc. Welcome to contact us for more information!