Reciprocating servo packing machine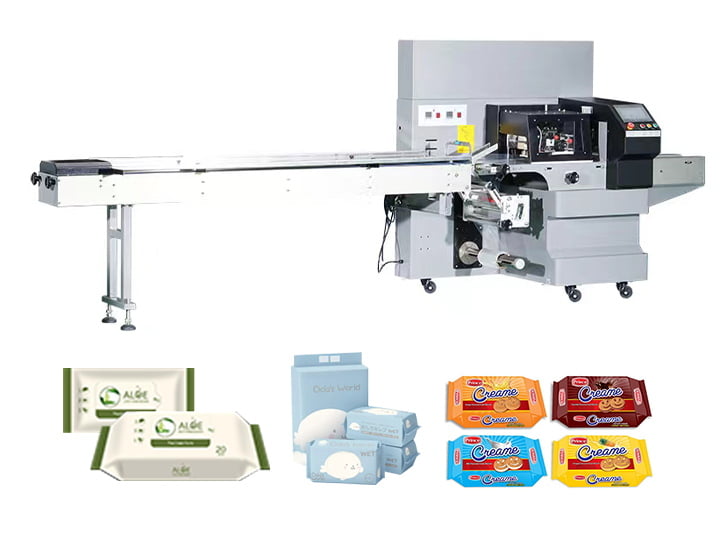 The brief introduction of reciprocating servo packing machine
This machine can be regarded as the upgrade of a common horizontal pillow-type packing machine. Reciprocating servo packing machine is suitable for various kinds of regular objects like biscuits, bread, egg roll, instant noodle, moon cake, medicine, hardware, industrial parts, paper boxes, plates, etc. It is worth mentioning that this machine has a gusset bag device which makes the bag shape more beautiful, and enhances the product grade.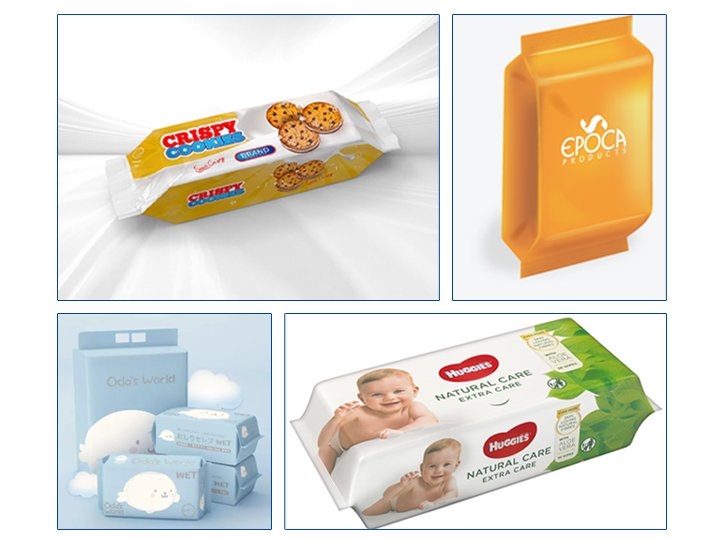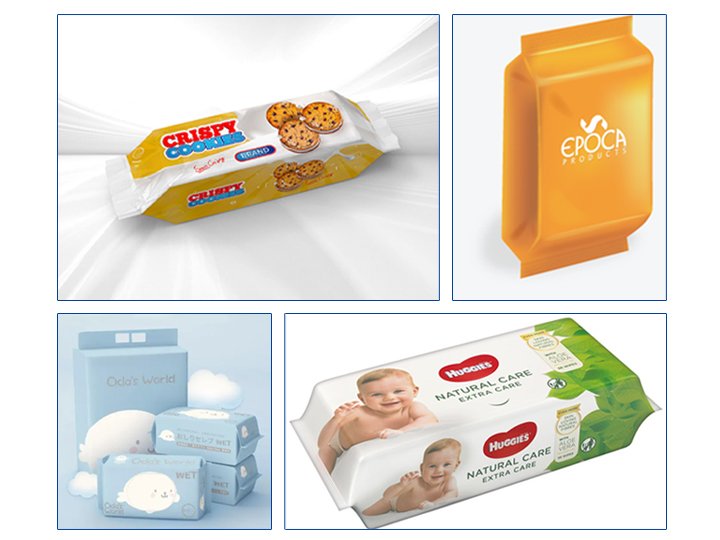 The structure of reciprocating packaging machine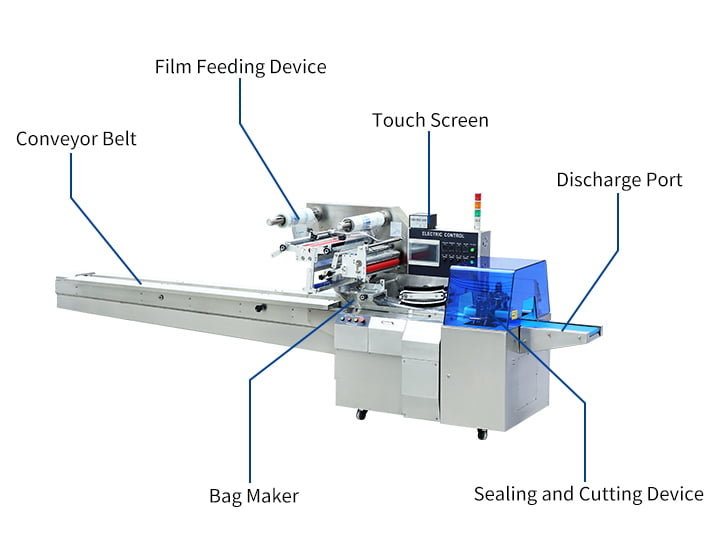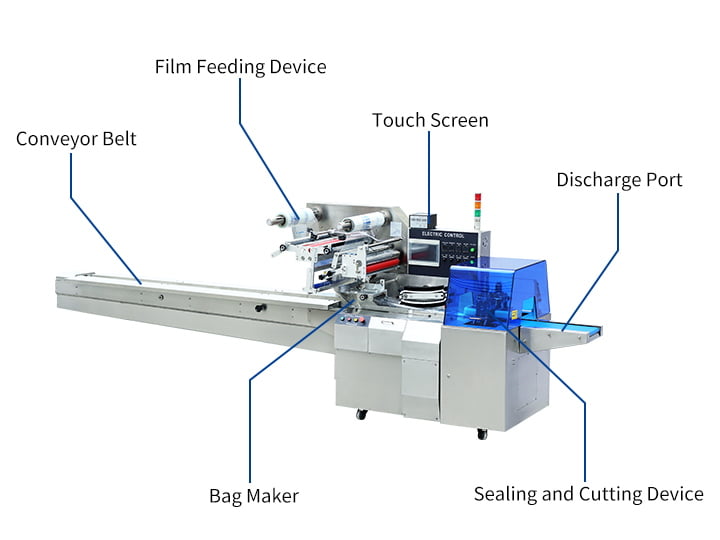 Details of reciprocating servo packing machine






The working video of reciprocating pillow packaging machine
The design features of reciprocating pillow packaging machine
Compared with the traditional rotary sealing system, the reciprocating sealing system can simultaneously complete the packaging of products of different heights and lengths, and in terms of exquisiteness, the reciprocating sealing system is also higher than the traditional rotary sealing system, while also ensuring the heat sealing effect of the sealing surface.
If it is an ordinary machine, to pack different products need to adjust the distance between the conveyor belt, while the reciprocating packaging machine with full servo motor can automatically sense and judge without manual adjustment.
Food-grade stainless steel in contact with the product Clean, hygienic and beautiful.
Touch screen, Chinese and English display, convenient and quick parameter setting.
High-sensitivity photoelectric eye color tracking, cutting seal position digital input, more accurate.
PID automatic temperature control is better for the packaging of different materials.
When the product is passed to the equipment conveying line to start to the end of packaging, the whole process, the equipment of each stage of the belt conveyor system will keep synchronized with the product forward, to avoid the product surface scratches that affect the beauty of the product, to ensure the quality of product packaging.
About us
Our Taizy company has been focusing on the packaging machine field for more than 10 years. We have attracted customers from all over the world with our good reputation, high-quality products, and affordable prices. The factory has gathered senior engineers and first-class technicians to strictly control the quality of products. Our sales manager will introduce you to the machine in all aspects through various ways such as video photos and recommend the most suitable machine according to your needs. If you need, you can inform the manager in advance, and our technical staff will customize the machine according to your needs. Our company maintains long-term cooperation with large domestic transportation companies to ensure that your goods are shipped with the least amount of unnecessary loss. At the same time, after receiving the goods, our after-sale staff are always ready to answer your confusion and provide advice on the maintenance and care of the machine. To satisfy our customers, seek success, and make progress together is the goal we Taizy always pursue.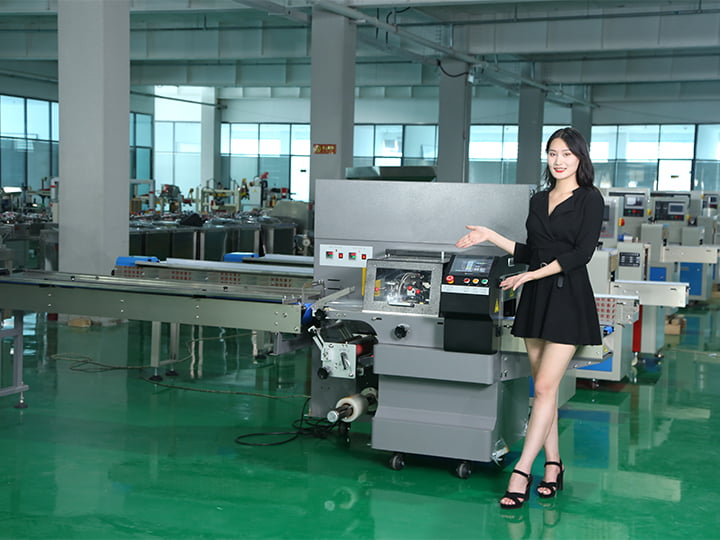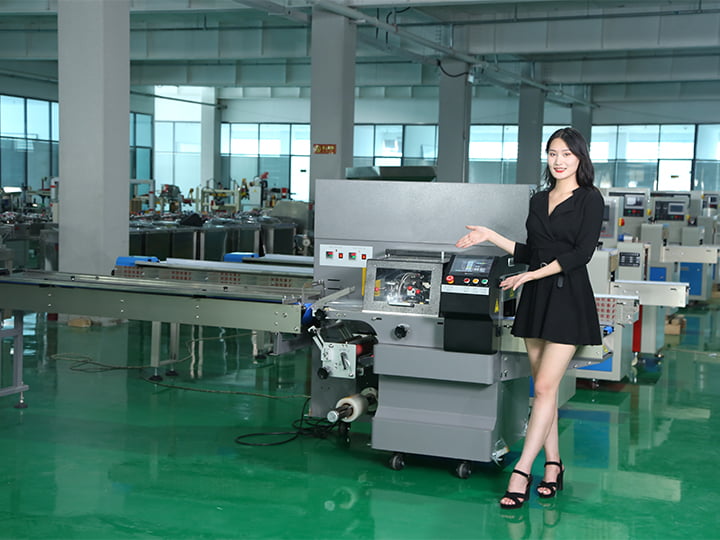 Machine Parameters
TZ-450W
| | |
| --- | --- |
| Film width | Max450mm |
| Bag-making length | 120~450mm |
| Bag-making width | 50~160mm |
| Production height | 10~100mm |
| Packaging speed | 20-80bags/min |
| Power | 4.2KW/220V/50/60HZ |
| Dimension | (L)4380mmx(W)870mmx(H)1500mm |
| Weight | 800Kg |
TZ-600W
| | |
| --- | --- |
| Film width | Max600mm |
| Bag-making length | 120~450mm |
| Bag-making width | 50~200mm |
| Production height | 10~100mm |
| Packaging speed | 20-80bags/min |
| Power | 4.6KW/220V/50/60HZ |
| Dimension | (L)4380mmx(W)970mmx(H)1500mm |
| Weight | 900Kg |