Sauce Paste Packing Machine
The Scope Application of Paste Packing Machine
The sauce packing machine is a fully automatic pouch paste packaging machine. So, it has functions such as automatic bag making, quantitative filling, photoelectric identification, heat sealing, and date printing. As we know, a pouch packing machine is suitable for liquid paste materials in food seasoning, beverage, medicine, daily chemical, sauces, foliar fertilizer, oil bags, honey, shampoo, cosmetics, and other materials packaging.
Structures of Sauce Paste Packing Machine
Performance Advantages of Pouch Paste Packaging Machine
Pouch paste packaging machine adopts electromechanical integration, a dual CPU microcomputer control system, and a large-screen LCD display. Also, the sauce paste packaging machine adopts a microcomputer-controlled photoelectric tracking correction system. It equipped with a high-precision stepping motor and precise the uniform position of each packaging bag pattern.
A control system completes the synchronization, fixed-length, positioning, speed of the whole machine. The most important is that it can automatically diagnose faults. You can choose to equip with a ribbon coding machine or stencil coding device. The ketchup sauce packing machine can automatically complete a series of actions such as bag making, filling, counting, sealing, and cutting.
There is no need to stop during the whole adjustment process, and no need to stop when you adjust the weight.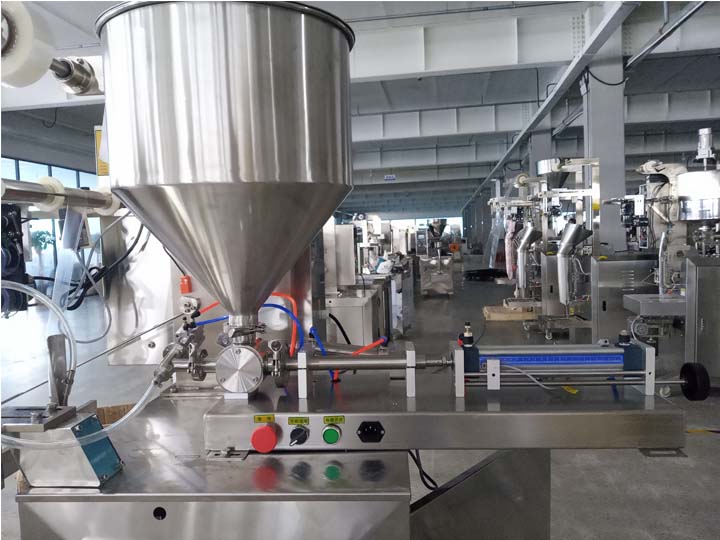 Packaging Method and Packaging Materials
Package Method
Back sealing, three-side sealing, four-side sealing.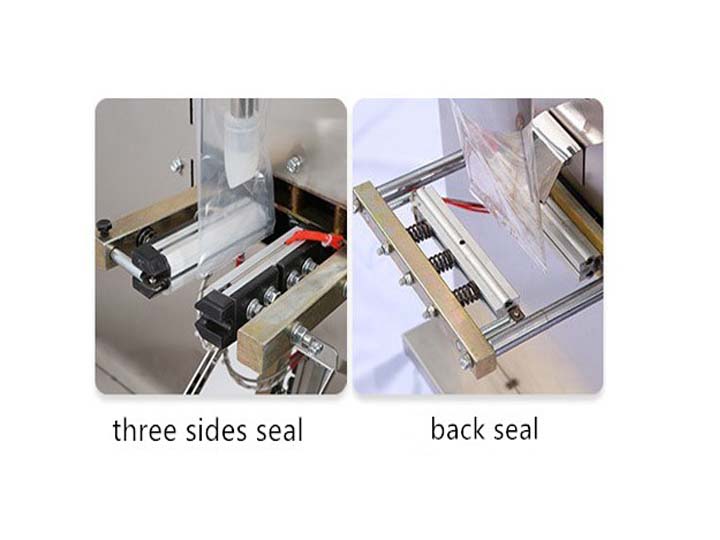 Packing Film Material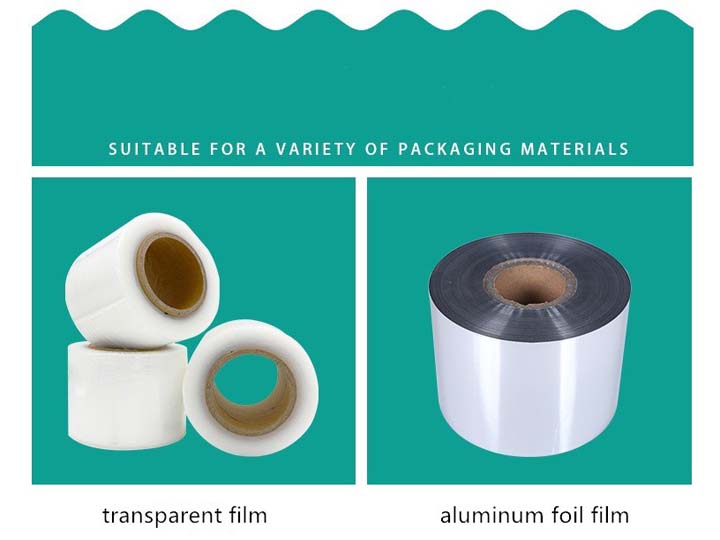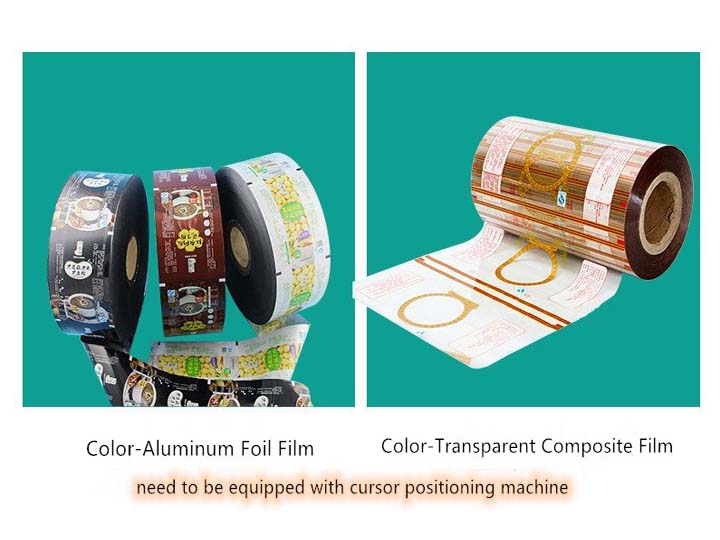 Packing Effect Display of Sauce paste Packing Machine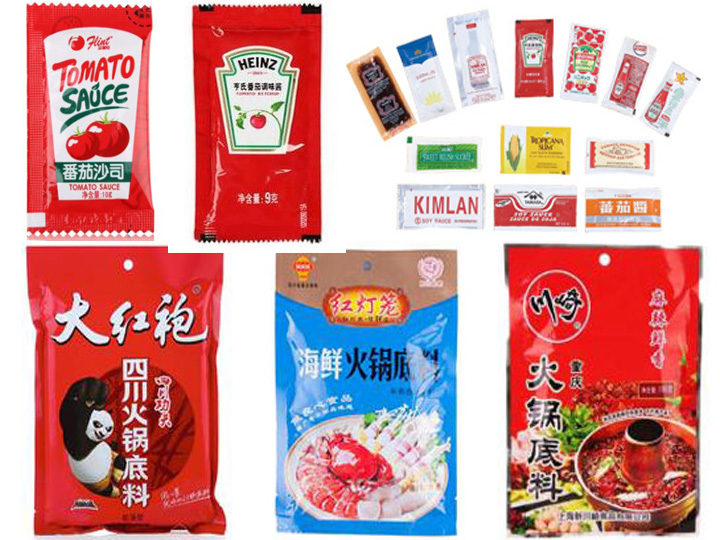 Our factory
We are professional manufacturers of sauce packing machines. Our company has been engaged in this area for more than ten years. We can provide high-quality machines and perfect after-sales service. Our factory has a large stock of packing machine, and we will send the machines at the first time when we receive your order. All packing machines are customizable.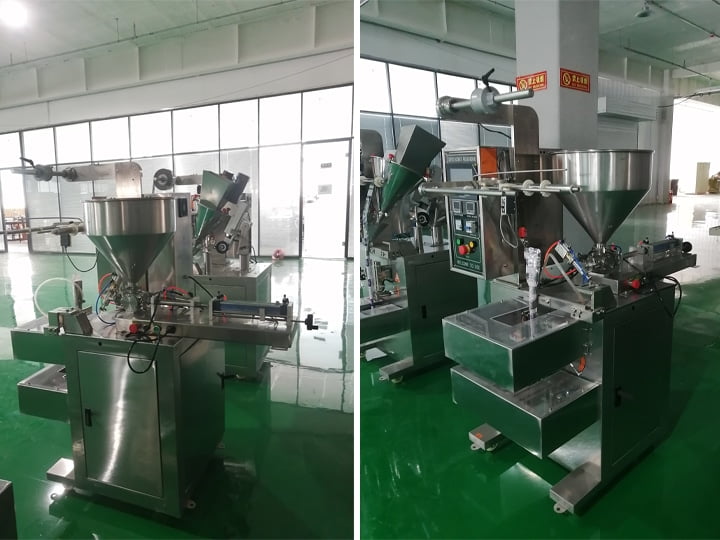 Customer Case
At the beginning of October, our Ecuadorian customer left a message on our website. He said that he wanted a paste packing machine to pack ketchup. He is in a private noodle shop business. So he wants to pack ketchup in small bags, which are easy to carry. According to his budget, we recommended him the smallest paste packing machine. As we know, ketchup is an acidic food, that is suitable for PET, AL, PET, PE packing films. In addition, the customer requires an easy-to-tear device. Also, he wanted to pack paste materials such as sauces, spicy sauce, and tahini. So we sent him two paste pumps. The packaging speed is controlled at 20 bags per minute.
Product Parameter
| | |
| --- | --- |
| Packaging | Back Sealing, 3 Side Sealing, 4 Side Sealing |
| Packing Speed | 24-60 bags/min |
| Bag Length | 30-150mm |
| Bag Width | 25-145mm |
| Weighing Range | 40ml or 20-100ml |
| Power | 2.2 KW |
| Air Pressure | 0.6-0.7 MP |
| Weight | 280 KG |
| Size | 1150*700*1750mm |
| Carton Size | 1100*750*1820mm |