Large Combination Weigher Packaging Machine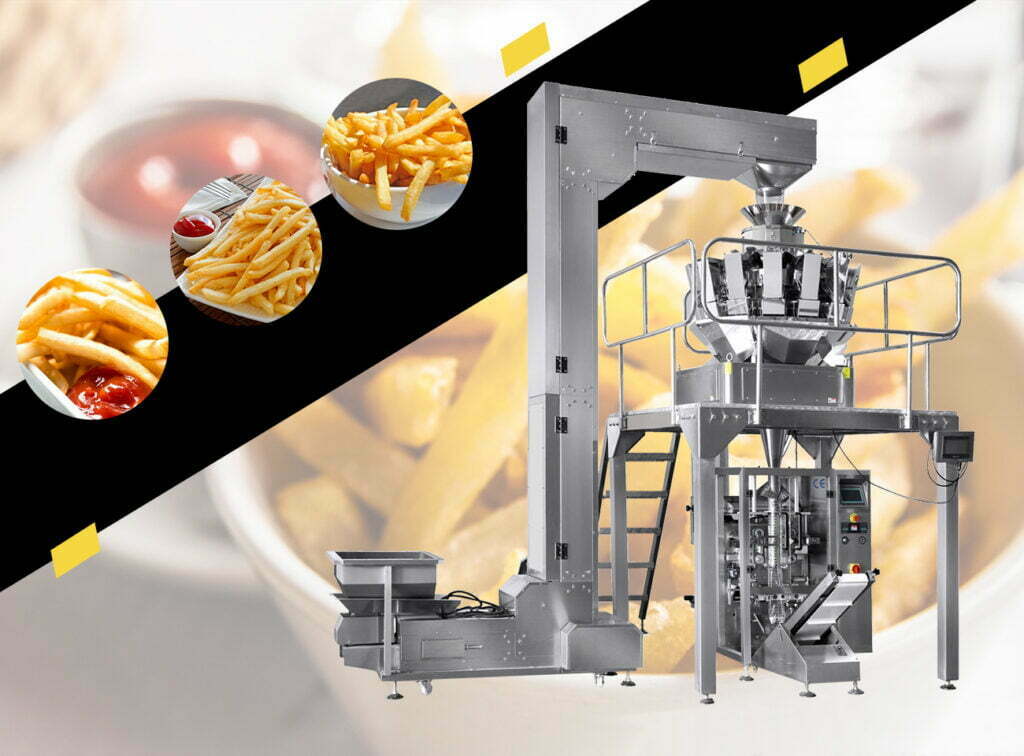 Model: Combination Weigher Packaging Machine 420,520,720. This is a machine specially used for packaging large grams.
The Applications of Large Multi-Head Combination Scale Packing Machine
The large combination weigher packaging machine is suitable for packaging liquids, pastes, powders, and granules. It can be used to package puffed food, potato chips, French fries, peanuts, melon seeds, MSG, tea, dried fruits, biscuits, cereals, hardware, plastics, and other granular, flake, strip, and irregular shapes, and other objects. It can be wrapped up to 2.5 kg. so how do you pack a large item? You can choose this machine. This machine is the first choice when you pack fragile items. For example, potato chips, French fries, Nigerian chinchin, and other snacks.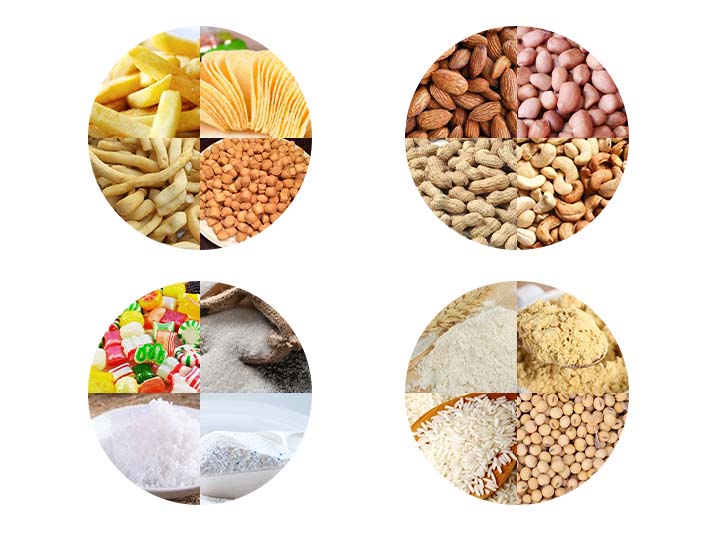 This packing machine is different from the pillow packaging machine, granule packaging machine, powder packaging machine, and paste packaging machine. The machine installs the packing film backward. It can be equipped with a four-head weigher and a ten-head weigher, twelve-head weigher. So you can choose the model according to the weight of the materials you want to pack.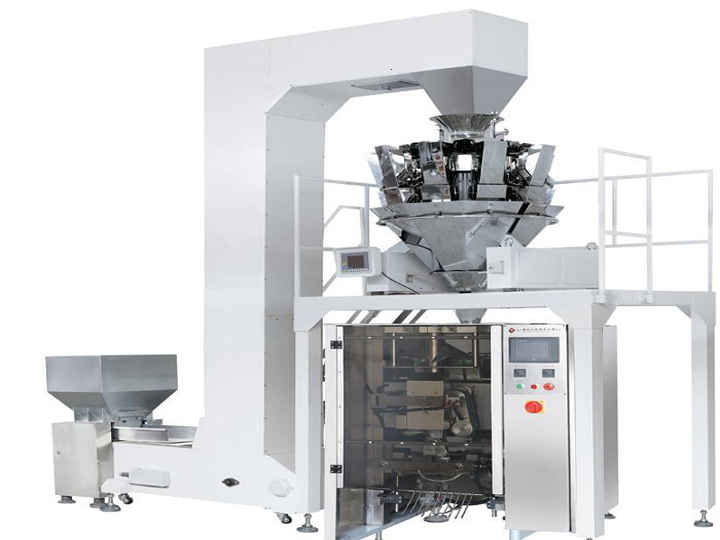 Packaging Form: This machine only back-sealing.
The Structure of Combination Weigher Packaging Machine
The multi-head weigher packing machine has three buttons. One is to control the switch, and one is to control temperature, and one is to adjust packaging film.
All models of this machine need to add an air compressor for easy sealing.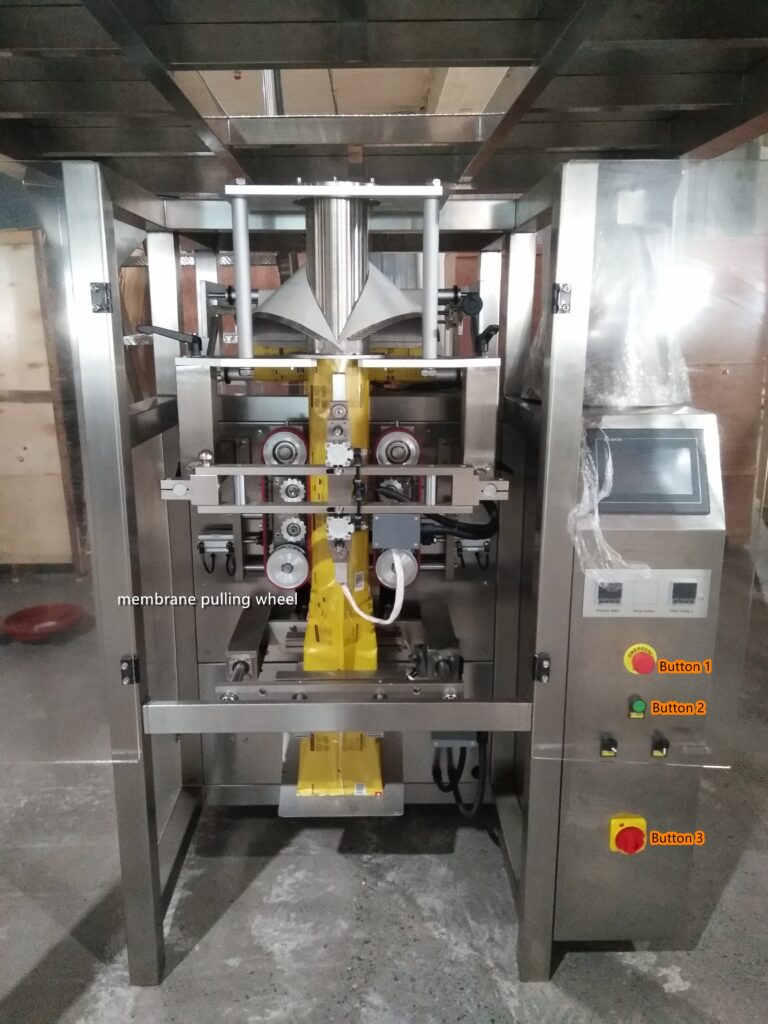 Package Style
The packaging styles of the large vertical combination weigher packaging machine are diversified. It can be back sealing, but there are differences in size.
The Advantages of Large Packing Machine
This packing machine adopts a thermocouple to control the temperature of horizontal and vertical sealing.
It adopts a pneumatic host with strong power.
The membrane pulling wheel is made of rubber material, which makes the packaging bag more. The film pulling wheel is made of rubber material, which makes the packaging bag more smooth.
The packaging of the machine is flawless and stable.
The inside of the packaging film is made of heat-sealing film, which is convenient for sealing.
It can equip with a punching device so the packing bag is suitable for hanging in supermarkets.
It can equip with an inflator for packaging fragile items such as French fries, potato chips, puffed snacks, etc.
The Working Video of the Large Combination Weigher Packaging Machine
Customer Case
We have a customer in Malaysia who uses this machine to pack 1.5 kg of washing powder. In addition, he added a device that punching the prong angle. Because he is a supermarket supplier, and he packaged washing powder to supply for the supermarket.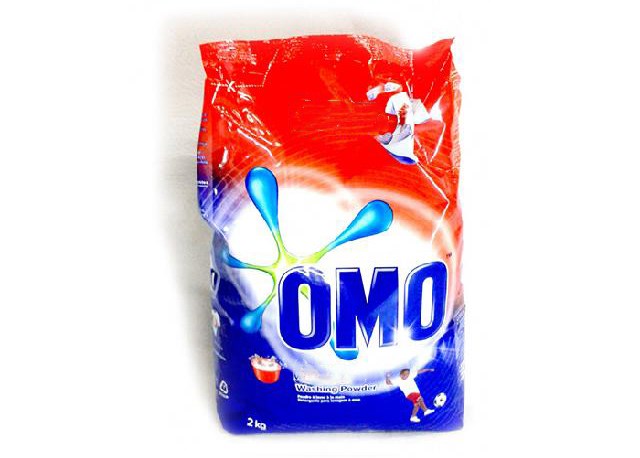 Technical Parameter
| | |
| --- | --- |
| Model | 420, 520, 720 |
| Weighing Scale | 10g-3000g |
| Weighing Accuracy | ±0.5-2g |
| Packaging Speed | 70 weighings per minute |
| Power | 220V, 50HZ, 1.5KW |
| Hopper Capacity | 2.5L |