Automatic round bottle labeling machine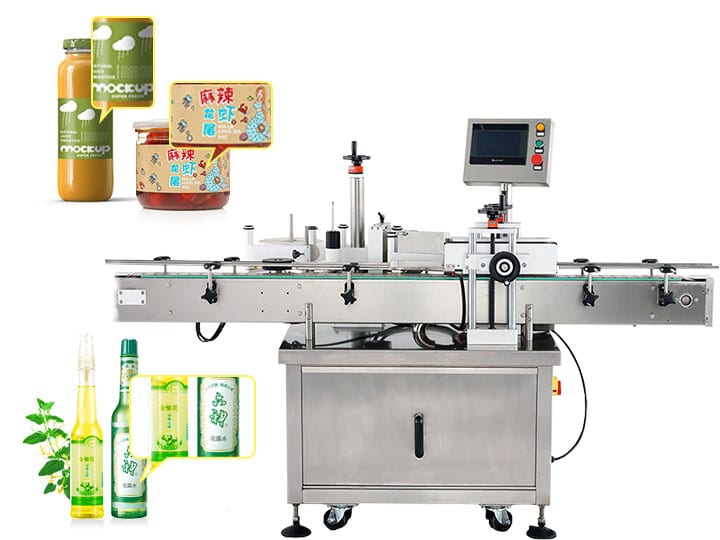 Introduction of round bottle labeling machine
The automatic positioning round bottle labeling machine is suitable for labeling in the whole circumference of round bottles, single and double labels can be applied. The interval between the two labels can be flexibly adjusted. It is widely used in cosmetics, food, medicine, sterilized water, and other industries. The automatic positioning round bottle labeling machine can be used with other machines, such as the automatic liquid filling machines.
Features of automatic round bottle labeler
Wide range of application: metal, glass, plastic, PET and other objects of different materials can be adapted; self-adhesive labels, self-adhesive film, electronic supervision code, bar code, two-dimensional code labels can be adapted as well.
Accurate labeling, high stability: good labeling effect, accuracy ± 1mm; using PLC + subdivision stepper motor drive to feed the standard, the standard of delivery; using cam brake mechanism, uniform tension, to ensure that the label belt taut, reduce label pull off, to ensure accurate label detection; label belt around the correction mechanism, to prevent the label left and right drift, to ensure the accuracy of the label.
Intelligent control, simple operation: humanized design, PLC programming control, large color touch screen operation, full Chinese operation interface, convenient and intuitive, powerful data memory function, can store 50 groups of labeling parameters, simple and quick operation; perfect fault indication and help function.
Excellent material selection and quality: We use stainless steel and high-grade aluminum alloy plate as its main material, which are rigid and not deformed, rust-free, and beautiful.At the same time, they are made in accordance with the ISO9001 quality management system, our product focuse on quality and user experience, in line with GMP's excellent manufacturing standards.
Application of automatic round bottle labeling machine
Because the automatic positioning round bottle labeler can apply labels, self-adhesive films, electronic supervision codes, and bar codes on the circumference of cylindrical products, it can realize the functions of circular, semi-circular circumference, and circular double-sided labeling, etc. Therefore, it is widely used on product packaging containers in various industries such as beverage, daily chemical, food, pharmaceutical, petrochemical, etc.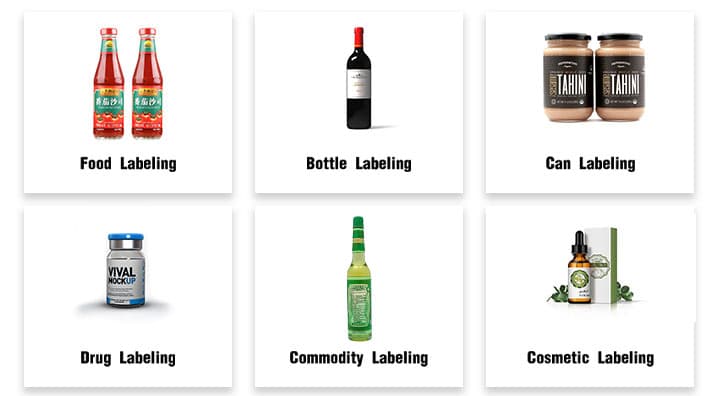 Operating principle and procedure of round bottle sticker labeling machine
Operating principle: Put the product to the conveyor belt, enter the bottle splitting mechanism, after the bottle splitting mechanism separates the product, the sensor detects the product passing by and sends back the signal to the labeling control system, at the appropriate position the control system controls the corresponding motor to send out the label and attach it to the product to be labeled position, and at the same time overlap the label, the labeling action is completed.
The operation procedures are as follows:
Put the product conveyor belt which can be connected to the assembly line
Conveying
Separation
Testing
Positioning
Labeling and relabeling
Collecting labeled products
Structure of automatic labeling machine for round bottles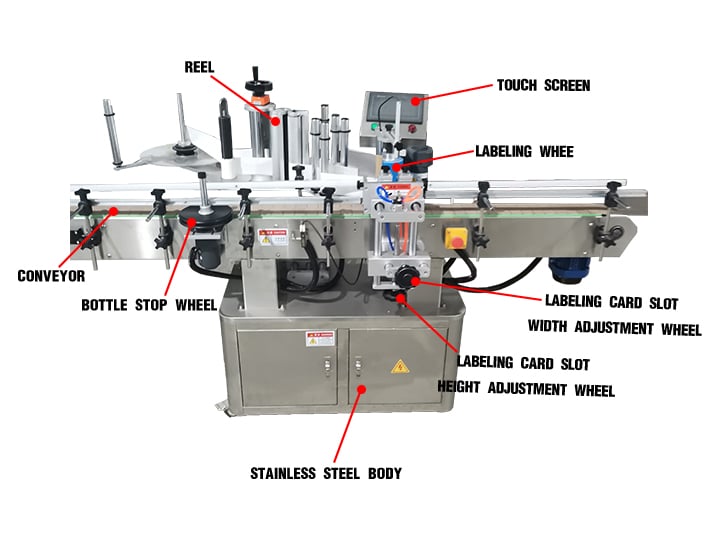 Details of sticker labeling machine for round bottles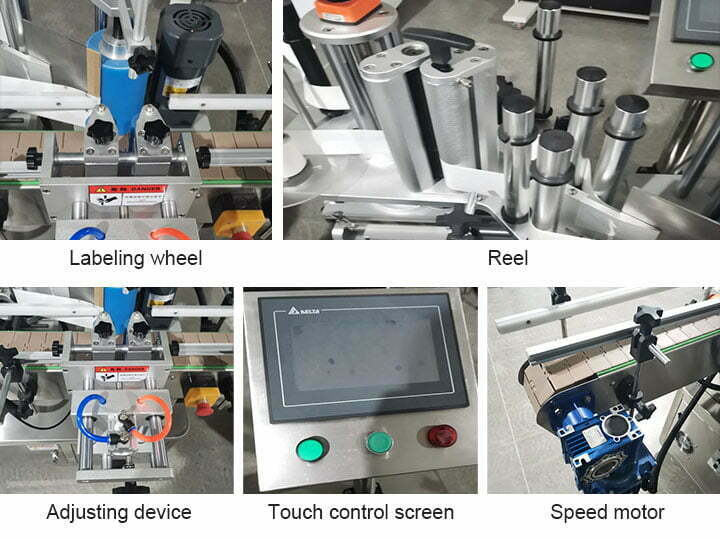 Machine Parameters
| | |
| --- | --- |
| Power | AC 220V/500w/50/60Hz |
| Packing quantity range | 0~25bottle/min |
| Labeling accuracy | ±1mm |
| Applicable labeling range | Height:15~200mm Length:20~400mm |
| Maximum labeling supply | Diameter:400mm Drum diameter:76mm |
| Weight | 200kg |
About the transportation
Our Taizy company has 10 years of experience in food machinery packaging equipment, we have sold lots of machines to many foreign countries, and our machines can be customized according to your different needs. Meanwhile, we have a complete shipping process to ensure all goods are properly packed, in case of extra loss.
FAQ
1.What kind of bottles can be labeled by an automatic round bottle labeling machine?
This machine is mainly for labeling single and double labels on various types of cylindrical or conical products such as round bottles and round cans.
2.What kind of material can be labeled on the bottles?
Different materials such as metal, glass, plastic, PET, etc. can be adapted.
3.What are the types of labels for labeling?
Self-adhesive labels, self-adhesive film, electronic supervision code, bar code, two-dimensional code labels, etc. can be adapted.
4.How big the diameter of the bottle can be labeled?
It is suitable for round bottles with a diameter of 35m or more. We can customize the labeling machine according to your needs. A horizontal labeling machine is required for labeling below 35mm.
5.Can one motor label a wide range of bottle diameters?
Yes, it can. It is compatible with multiple diameters of products labeled by the same machine. The optional positioning detection devices can realize circumferential positioning labeling. It can be modified or customized according to the size and characteristics of the products to be labeled.
6.What is the difference between an automatic round bottle labeling machine and a semi-automatic round bottle labeling machine?
The automatic round bottle labeling machine is more effective and suitable for production processing with higher output. Semi-automatic one requires manual placement of products to the machine labeling and manual receipt of materials, labeling speed than the automatic labeling machine slower.
7.What is the price of the automatic round bottle labeling machine?
Different models of machines have different prices, please contact us for a quotation.