Flour Powder Packing Machine
Introduction of Powder Packaging Machine
The powder packing machine is divided into a direct push screw, oblique push screw, flat push screw. The feeding method is different from that of the pellet packaging machine. It is suitable for packaging milk powder, flour, seasoning powder, veterinary medicine, additives, and other industrial, food, agricultural, and sideline products powder.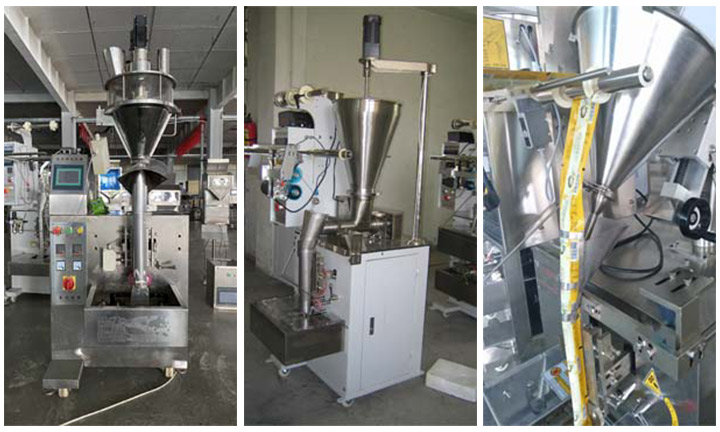 Applications of Powder Packing Machine
The direct screw powder packaging machine is suitable for powder with dust, such as flour. The oblique screw powder packaging machine is suitable for packaging soy milk powder, mung bean powder, starch with good fluidity, and no-fly dust. The flat push screw can be used to pack many kinds of powder. Such as coconut powder, enzyme powder, and so on.
How to Choose Powder Packaging Machine from These Three Types
The weight of a single bag of the oblique powder packaging machine can be packed up to 80 grams, which is suitable for a powder without flying dust.
The direct push powder packaging machine and the flat push powder packaging machine can pack any powder, but the weight of a single bag of direct push can be reported to 1kg, and the weight of a single bag of flat push can be up to 200 grams. The packaging can be a back seal, three-side seal, and four-side seal. You can choose one according to your packaging needs.
Weighing Method and Sealing Method
Weight
The powder pouch packing machine can be weighed according to the screw speed. The screw can rotate at 180 degrees, 270 degrees, and 360 degrees.
Packing
The powder packing machine can be back sealing, three-side sealing, and four-side sealing.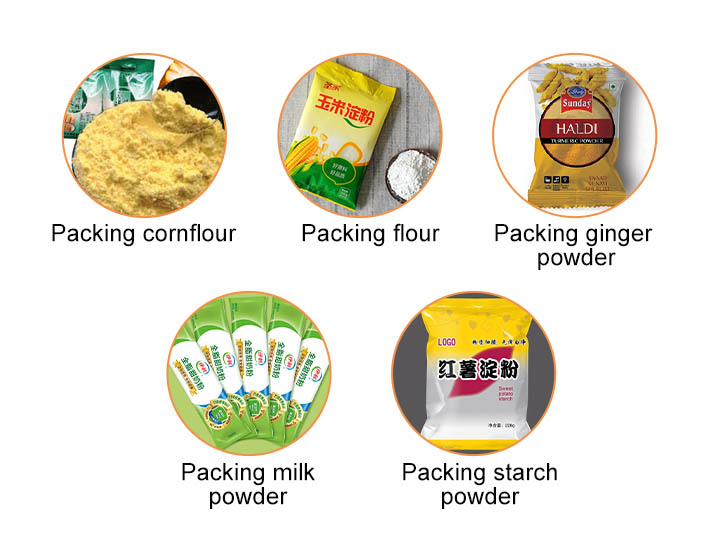 Packaging style back-sealing, three side-sealing, four side-sealing
Optional Device: continuous packaging device, inflation device, coding device.
Uniqueness of the Milk Powder Powder Packing Machine
The screw is made of stainless steel, which is specially manufactured and welded manually. The error is small, and it can achieve zero error. We can also customize the packaging machine for you according to your needs: small powder packing machine, automatic powder packing machine, powder filling and sealing machine, powder weighing and filling machine.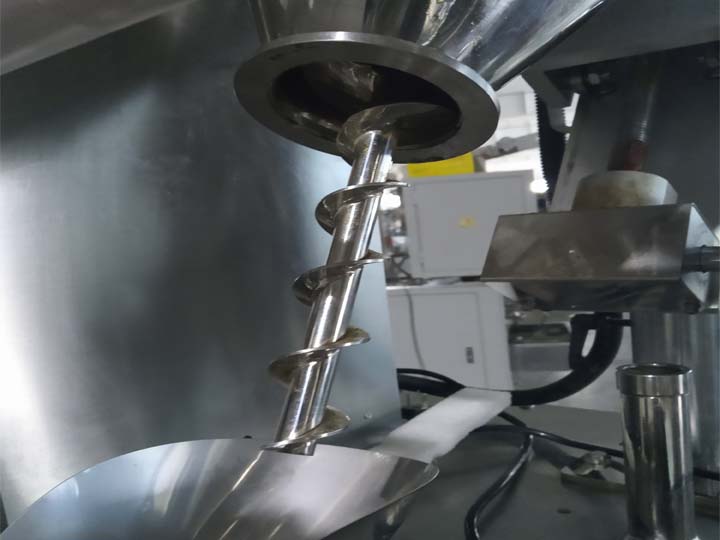 F&Q
What materials is used in the machine?
The machine is all made of stainless steel, and the part in contact with the material is made of 304 stainless steel.
2. Is this machine equipped with a cursor?
Yes, it is. It has been installed at the factory.
3. Is the packaging weight adjustable?
Yes, it can. If you want to adjust the range is 1-10 grams, then you can adjust the screw speed to complete the weight adjustment.
4. Can you provide a packaging film?
Yes, we can. But you need to tell us your packaging requirements.
Classic Case
At present, we have sold small spice packing machine, detergent powder packaging machine, chili powder packaging machine, washing powder packaging machine, milk powder packaging machine, spice pouch packaging machine, spice powder packaging machine, auger packing machine, red chili powder packaging machine to Nepal, Mexico, Libya, Congo, Botswana, the United Kingdom, Sri Lanka, Saudi Arabia, Canada, Nigeria, and other countries.
If you want to know the powder packing machine price, please contact us, and we will provide you with packaging solutions immediately.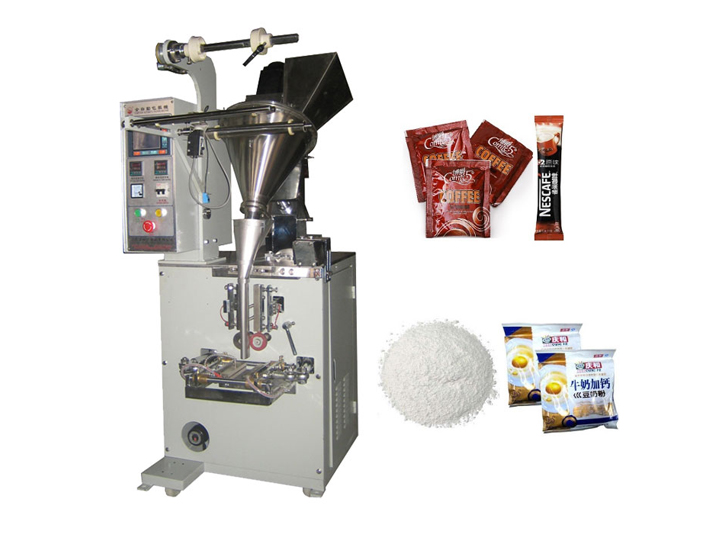 Technical Parameter
| | |
| --- | --- |
| Package | Back Sealing, 3 Side Sealing, 4 Side Sealing |
| Packing Speed | 24-60 bags/min |
| Bag Length | 30-180mm |
| Bag Width | 25-145mm |
| Weighing Range | 0.5-3ml, 3-10ml, 10-60ml, 40-220ml |
| Power | 2.2KW |
| Weight | 280KG |
| Size | 650*1050*1950mm |
| Carton Size | 1100*750*1820mm |