Semi-automatic powder packaging machine | Auger filling machine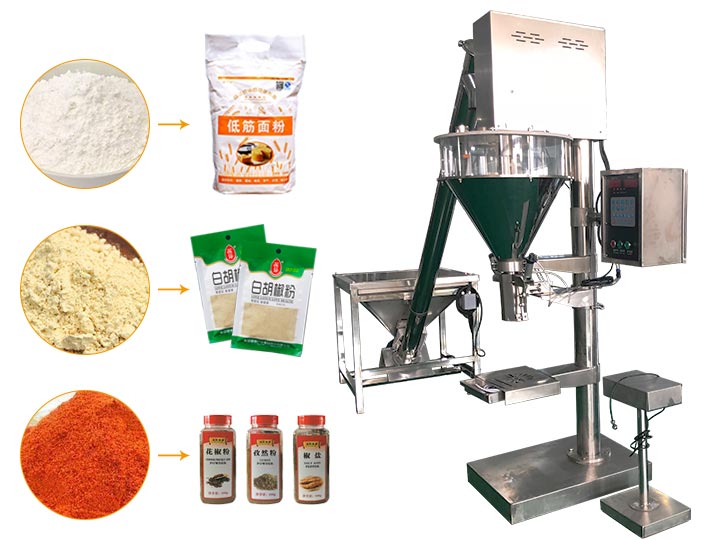 Introduction of semi-automatic powder packaging machine
The packaging machine is suitable for quantitative packaging of powder, and powder materials in the chemical, food, agricultural, and sideline products industries. It includes milk powder, starch, pesticides, veterinary drugs, premixes, additives, condiments, feed, Enzyme preparations, etc. It can complete quantitative packaging or quantitative filling of products. The semi-automatic powder packaging machine has a wide range of applications. The weighing is accurate, the work efficiency is high and the price is favorable. Therefore, the semi-automatic powder filling machine is very popular.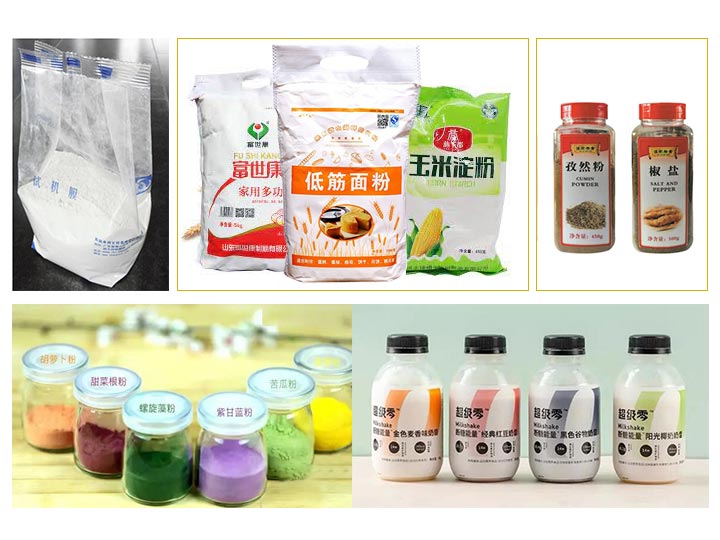 structure of the semi-automatic packing machine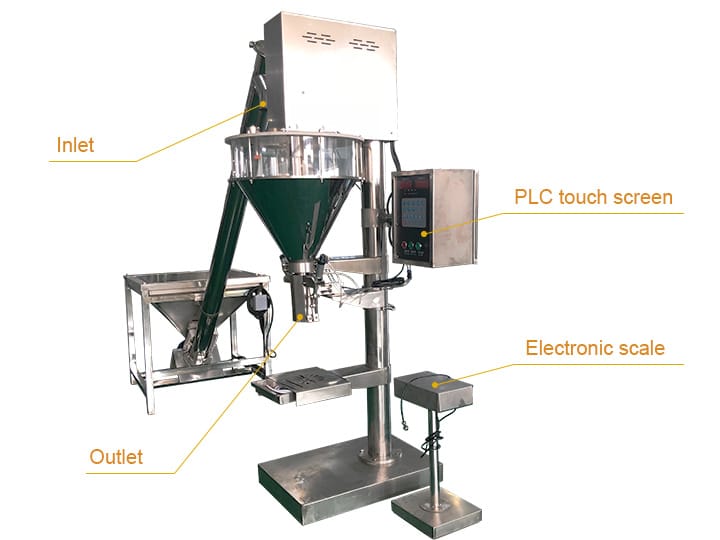 Technical parameters of the semi-automatic packaging machine
| | |
| --- | --- |
| Power | AC380V 900W |
| Packing specification | 1-10 kg |
| Packaging accuracy | ±1% |
| Packaging speed | 500-1500 bags/hour (depending on packaging specifications and materials) |
| Machine size | 1000×850×1850mm |
| Weight | 280kg |
Workflow of semi-automatic auger filling machine
First, you need to manually add the raw materials to the silo.
Second, you can set the packaging speed, packaging weight, and other technical parameters.
Third, the user needs to put the packaging bag or bottle to the discharge port.
Fourth, turn on the switch and the packaging machine can work normally.
The semi-automatic powder packaging machine adopts a combination of screw blanking and electronic weighing technology. The machine adopts microcomputer control. This screw filling machine has automatic quantitative, automatic filling, and automatic error correction. At the same time, it has functions such as counting and cleaning
Features and advantages of semi-automatic powder packing machine
1. This semi-automatic auger filling machine is made of stainless steel It is easy to clean and prevent cross contamination;
2. This semi-automatic powder packaging machine integrates machine, electricity, light and instrument into one. It is controlled by a single-chip microcomputer. And it has functions such as automatic quantitative, automatic filling, and automatic adjustment of measurement errors;
3. Fast speed: adopt spiral cutting and light control technology;
4. High precision: using stepper motor and electronic weighing technology;
5. Wide packaging range: the same quantitative packaging machine can be adjusted continuously within 1-10 kg through the electronic scale keyboard and replace the different specifications of the blanking screw;
7. Wide application range: both powdery and powdery materials with certain fluidity can be used;
8. Errors caused by changes in the proportion of materials and material levels can be automatically tracked and corrected;
9. PLC touch screen adjusts the functions of the machine. The semi-automatic auger packaging machine only needs manual bagging, and the bag mouth is clean and easy to seal.
Semi-automatic powder packing machine price
This semi-automatic powder packaging machine has different models, including PLC touch screen models and button models. At the same time, the specific parameters of different models are also different. In addition, the size of the silo can also be customized. Therefore, the final price is also different. You can contact us to tell us your specific needs, we will equip you with the most suitable and most favorable machine.
Machine display
We have two types of machines for sale. They have different control system. The first use keys and the other use PLC control screen. The detailed parameters of the two machines are also different.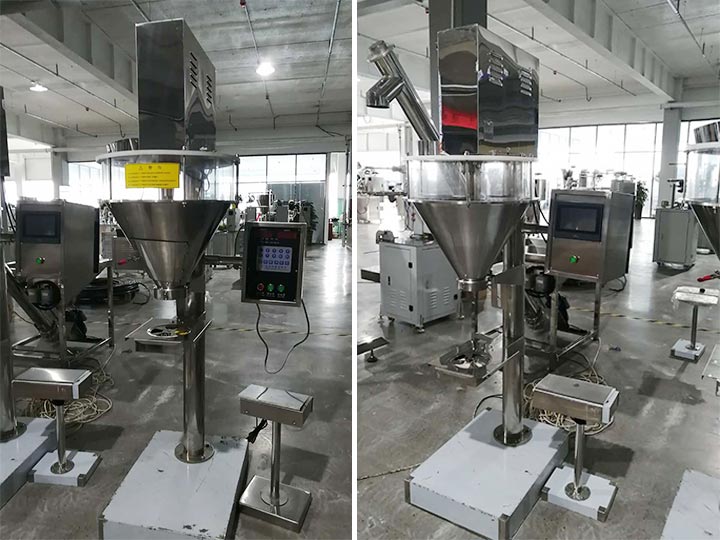 Difference between a semi-automatic packaging machine and an automatic machine
Different production efficiency. The automatic powder packing machine adopts advanced fully automatic technology. Therefore, the production efficiency is higher than that of the semi-automatic packaging machine. At the same time, it can save a lot of labor.
2. The adjustable range of the automatic powder packing machine feeding is relatively narrow. While the feeding adjustment range of the semi-automatic packaging machine is wider.
3. In terms of the degree of automation, the difference between semi-automatic and fully automatic is that one relies on labor and the other is unmanned operation.
4. The price is different. The price of semi-automatic packaging machine is more favorable and cost-effective.
Which packing machine should we choose: automatic or semi-automatic machines?
In summary, in terms of technology, the automatic granule packaging machine has more advanced advantages. The semi-automatic packaging machine also has its own advantages, such as price advantages. In the production process, there are pros and cons between the two.
Therefore, enterprise customers must carefully consider in the process of selecting equipment. Choose the machine according to the products you need to pack and the actual conditions. The right is the best.
Additional equipment: sealing machine, feeding machine
The semi-automatic powder machine can automatically complete product filling. After that, it is necessary to manually seal the product package with a sealing machine. Therefore, a sealing machine can be equipped.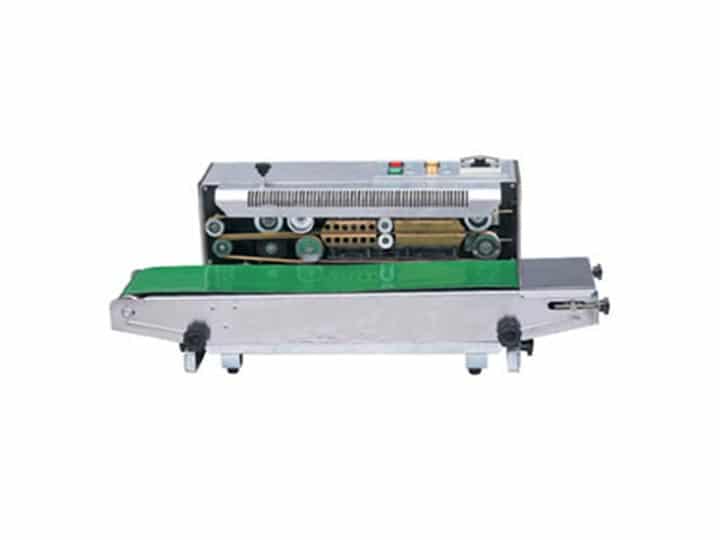 Multifunctional film continuous sealing machine TH-900
Application range
This sealing machine can be used for packaging and sealing products. It can seal food bags, medicine, daily cosmetics, local products, chemical products, electronic products, vegetable seeds, hardware, etc. It is widely used in factories, shops, retail departments, service industries, and other industries. Combine the sealing machine with the semi-automatic packaging machine is the best choice.
Advantages
This equipment has firm sealing and high efficiency;
2. The structure is simple, compact, and small;
3. Beautiful appearance, advanced technology, low power consumption;
4. Convenient operation, maintenance, and other advantages.
5. You can equip the sealing machine with embossing wheels and printing wheels. And the fonts can be changed as needed.
6. It can work continuously for 24 hours, with strong performance and low failure rates.
Technical parameters
| | |
| --- | --- |
| Power supply: | 220V 50Hz 520W |
| Sealing width: | 5-14mm adjustable |
| Sealing material: | 0.03-0.80mm |
| Bag sealing capacity: | up to 55 bags/min (100mm) |
| Sealing speed: | 0-12m/min |
| Temperature range: | 0-300℃ |
| Dimensions: | 810×370×310mm |
| Number of printed characters: | ≤39 characters |
| Weight: | 17.5kg |
Feeder
You can manually feed the silo, or you can buy a feeder. And It can be automatically fed by screw feeding.
Application field
The feeder should match with semi-automatic powder packaging machine. It can complete the automatic feeding of the machine. It effectively improves packing efficiency and reduces labor costs.
Features
It is Used in conjunction with the semi automatic auger filling machine. And it is controlled by packaging machine.
2. Set with push switch for easy cleaning.
3. The silo is equipped with a vibrator for smoother feeding,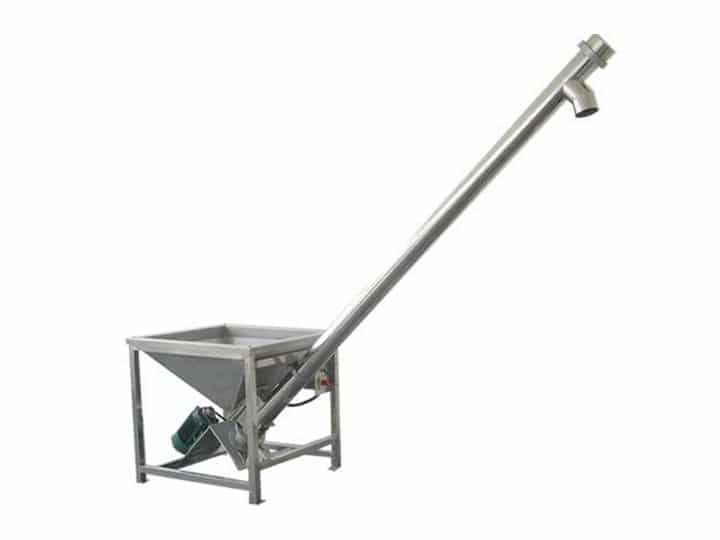 Technical parameters
| | |
| --- | --- |
| Lifting capacity | 1000-3000Kg/H |
| Material box volume | 100-300Kg |
| Loading height | 2000mm (height can be customized) |
| Voltage power | AC380v 1100W |
| Material | Stainless steel type |
| Weight | 150kg |
Q&A
1. How does it ship?
We will package it in Plywood Box. And it can prevent the machine from being spoiled.
2. How to contact us?
You can fill in your information on our Taizy company websites. Then our sales manager will contact you about the details.
3. What kind of packing material can we choose?
Plastic bags, bottles, nylon materials are all suitable.
4. What's the weight range of the packing?
0-5 kilograms is OK. If you want to pack more powder, we can customize the silo for you. Its maximum packing weight can reach 10 KG.