Pyramid tea packing machine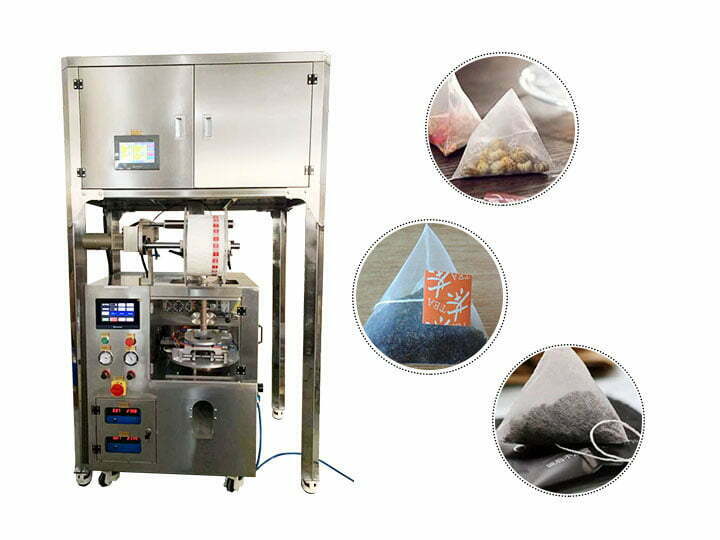 Some people call tea triangle packing machines to pyramid tea packing machine or nylon triangle tea packaging machines. No matter what name is called, it is the tea bag packing machine.
Difference Between a Labeled Tea Bag and a Nylon Triangle Tea Bag
The finished product packaged by the pyramid tea packing machine is different from another tea packaging. Labeled tea bags are standard rectangular tea bags. It is filled with tea leaves, a drawstring is sewed on the top, and a small tag is nailed to the other end of the drawstring. It is convenient for brewing in a cup. These tea bags are usually individually packaged in a sealed paper bag or box to achieve as fresh as possible.
The nylon triangle tea bag is a popular style recently, and nowadays, pyramid tea bags can be purchased in various stores around the world. As its name suggests, when you take the teabag out of the box and place it on the counter, the teabag is like a triangular pyramid. It is very suitable for brewing a cup of tea quickly. Also, there is a convenient string for drinking from the cup.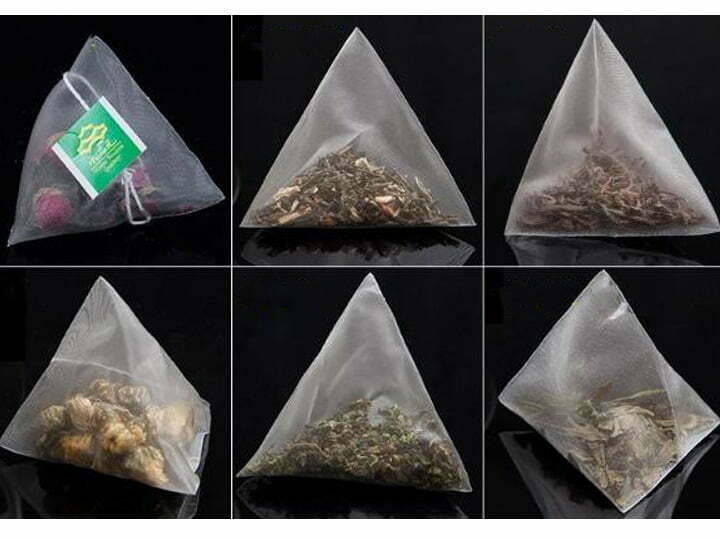 Applicable Materials of Nylon Triangle Tea Packaging Machine
The packing machine can pack green tea, black tea, scented tea, coffee, Chinese tea, healthy tea, Chinese herbal tea, granules, etc. It is widely used for packaging in food, medicine, and other industries.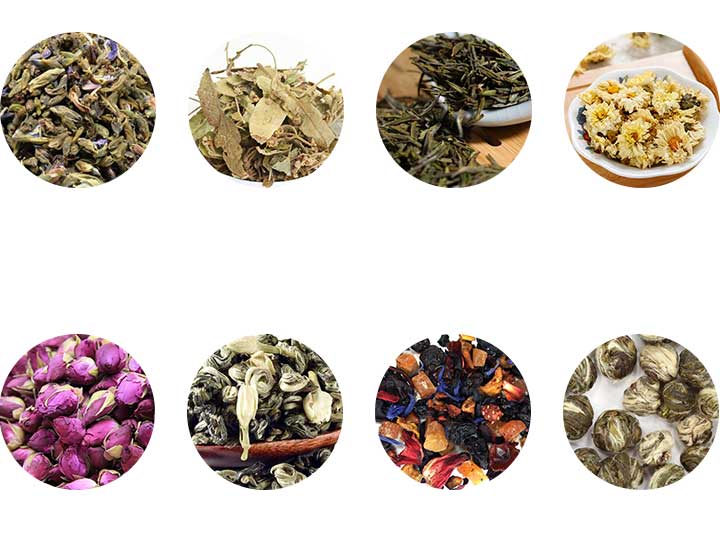 Packaging Form and Materials
It can be used for flat bag packing, triangular packaging, etc.
Packaging materials: nylon, PET, non-woven fabric, corn fiber.
Functions of Pyramid Tea Packing Machine
It can automatically complete the functions of feeding, metering, bag making, sealing, cutting, counting, finished product conveying, etc.
Sealing and measuring method: Imported ultrasonic sealing, the sealing is firm, and the cutting is accurate. Electronic weighing, and measuring method.
Why Choose a Nylon Triangle Tea Packaging Machine?
Its advantages are as follows:
It can pack a three-dimensional effect. And there is room for raw materials such as original tea, herbal tea, ginseng tea, fruit tea, etc. to fully unfold and exude flavor.
It can be brewed many times and for a long time to make full use of the original tea.
It will release the tea taste in a short time.
It adopts the ultrasonic wave to seal without any traces to create the image of high-quality tea bags.
It is transparent, consumers can clearly see the packaging materials inside.
Advantages of Pyramid Tea Bag
01
As the name suggests, the triangular tea bag resembles a triangular pyramid. Also, it has a drawstring for making tea. Hang the label outside the cup when making tea. In terms of appearance, the triangle tea bag is more attractive to young consumers to make them want to buy.
02
The Triangle tea bag release effect is better.
We can specifically calculate that for two tea bags with the same volume. The triangular tea bag has a larger surface area in contact with hot water. The traditional tea bag can only have about 1/2 of the contact area, while the triangular tea bag can reach 3/4 of the contact area.
This packing makes the release effect of the tea taste in the triangle tea bag more uniform and rapid. It is easier to make tea in a short time. Also, it is more convenient for the drink shop to quickly extract the tea.
03
More stretched tea-making process.
The pyramid tea bag has an obvious advantage in appearance over the traditional teabag. The tea is in the triangular tea bag so that the brewer can feel the graceful floating of the tea taste and the hot water. And the more elegant tea-making experience is ordinary tea can't bring.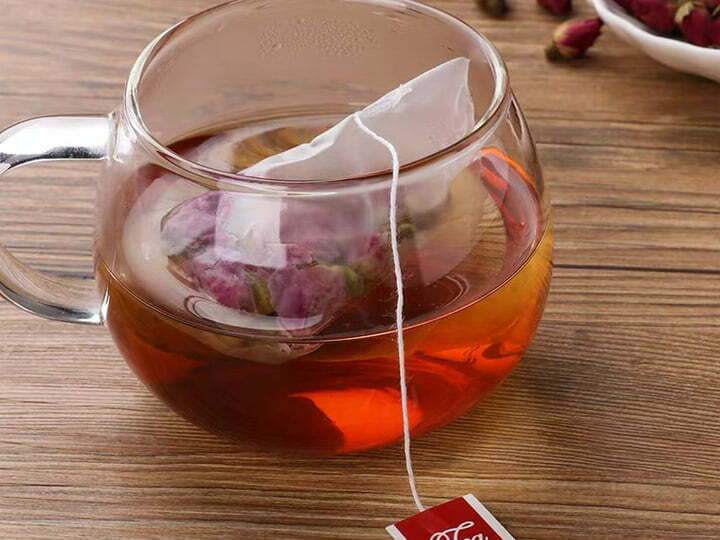 Tea Triangle Bag Packaging Machine Detail Display
Weighing Part Details
Other Parts Details
Pyramid Tea Bag Packing Machine Price
The price of our nylon tea triangle packaging machine will be different. Because we will equip the tea triangle bag packing machine with weighing scales. Currently, we have a pyramid tea packing machine with two scales, a tea triangle packaging machine with four scales, and a nylon triangle tea packaging machine with six scales.
Therefore their packaging speed is different. So the price of the tea triangle packaging machine is not fixed. If you want a more exact price, please contact us. We will recommend an accurate tea packaging machine for you according to the materials you want to pack.
Value-added Services We Can Provide:
1.QC: We have a strict quality control system. Before shipment, we will take photos and videos for you.
2.After-sales service: 24 hours online, lifetime maintenance. English Manual and video teaching.
3.Production time: 10-20 days.
4.Voltage: Customize the voltage for your country.
If a machine has a problem, How to solve it?
1.You provide a feedback video to us, and we will check what happened.
2.If there is a problem with the machine due to an improper operation, we can provide the parts for their original price for you.
3.If not by man inappropriate behavior, and we can provide parts for free.
4.Throughout the process, we will provide a 24-hour online service to teach you how to replace parts, etc. We do our best for every service.
Nylon Triangle Tea Packaging Machine for Sale
The above is the tea nylon triangle packaging machine we sell and the services we provide. In addition, the tea packaging machines we sell include dip tea bag packing machines, tea inner and outer bag packaging machines, and tea bag packing machines. If you have any questions, you can consult us.
Technical Parameters
| | |
| --- | --- |
| Bag width | 60-80mm |
| Bag length | 40-80mm |
| Packing speed | 20, 40, 60 bags/min |
| Weighing range | 1-7g |
| Power | 220V/2KW |
| Air pressure | air pump |
| Air consumption | 0.6m3/min |
| Total Weight | 400kg |
| Size | 1200*920*2060mm |