Biscuit, bread packaging machine | Horizontal packing machine TZ-350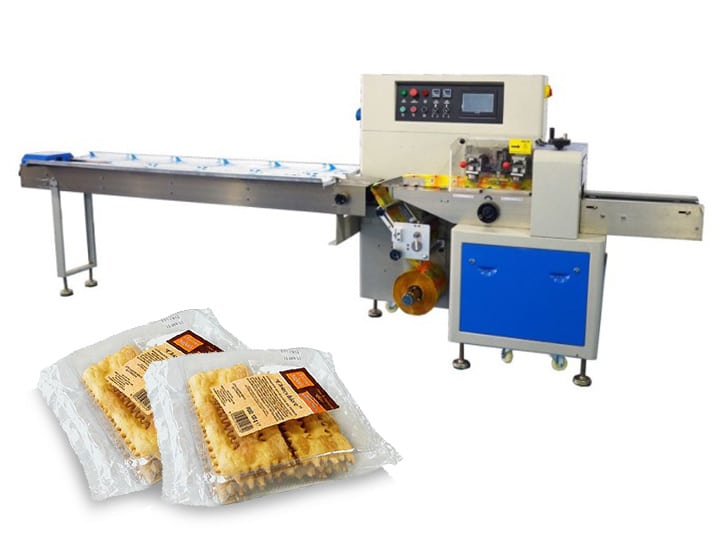 Horizontal packaging machine model: TZ-350
Upper film feeding & Lower film feeding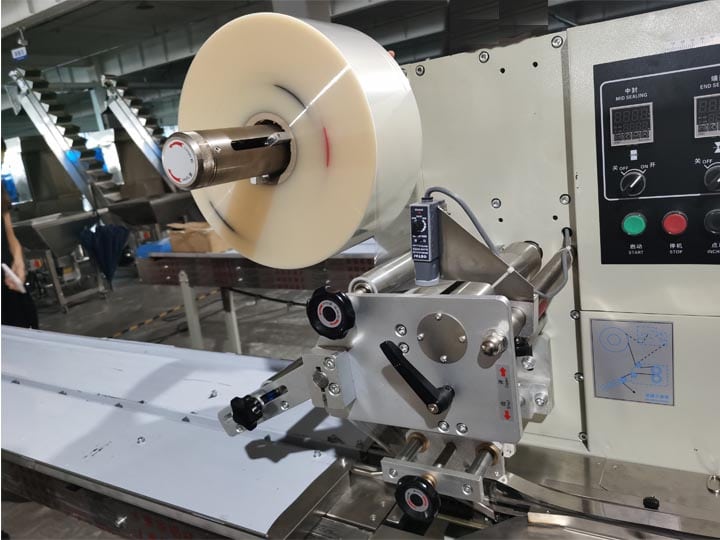 Applied field of the biscuit packing machine
The horizontal packaging machine is suitable for packaging all kinds of regular objects such as biscuits, rice tongs, wafers, snow cakes, egg yolk pie, chocolate, bread, instant noodles, moon cakes, medicines, daily necessities, industrial parts, solid alcohol cartons, or trays, etc. The TZ-350 horizontal packing machine is suitable for packing products with a maximum film width of 350mm. It can also be called the biscuit packing machine because of its wide application in biscuit packing, pasty packing, and bread packing.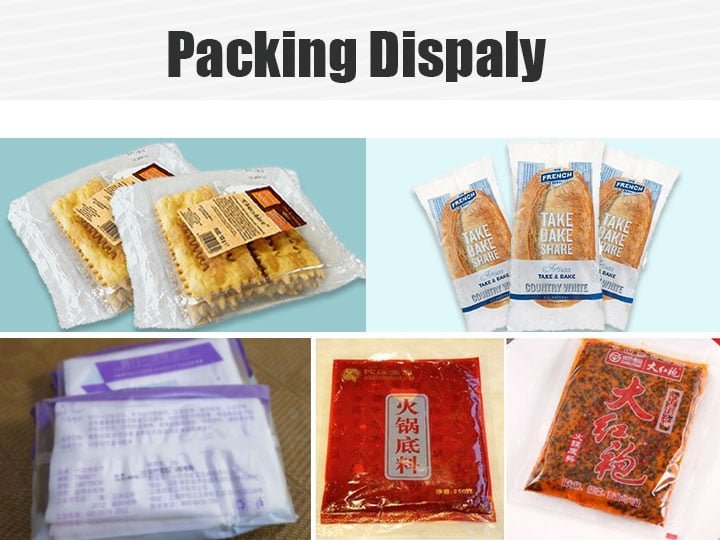 The structure feature of the biscuit packing machine
You can adjust the operation panel according to the material.
The horizontal biscuit packing machine can equip with a single knife, double knife, and three-knife for cutting.
It's convenient to set parameters.
High-sensitivity cursor tracking and digital input of the sealing and cutting position make the sealing and cutting position more accurate.
The transmission system is simple, the operation is more reliable, and the maintenance is more convenient.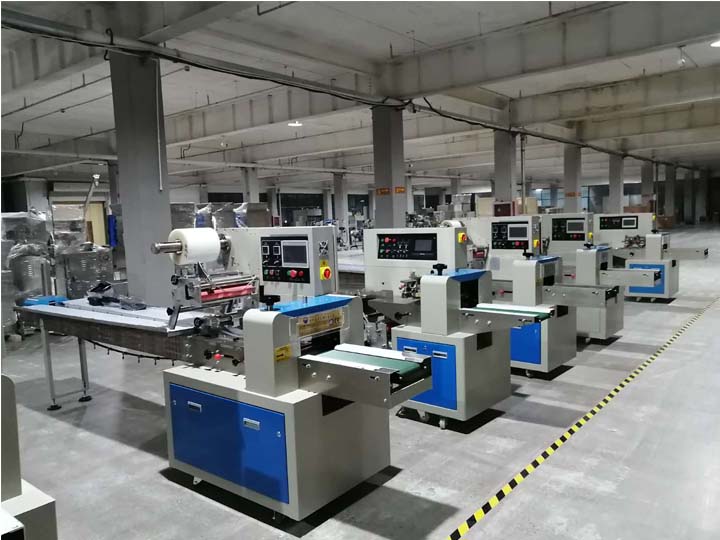 The performance advantages of biscuit packaging machine
The pillow-type bag packaging machine has fault self-diagnosis function, so the fault display at a glance.
Double inverter control and the bag length is set and then cut immediately. No need to adjust the empty running and one step are in place. Therefore, the whole packaging process saves time and film.
An independent PID control the temperature, which is better suitable for various packaging materials.
Optional device for the biscuit packing machine
Coding machine: Coding machine: this device can complete coding evenly.
Inflatable device: inflatable device can inflate nitrogen so as to keep food from spoiling in a short period of time.
Exhaust device: it can make the air exhausted.
Brush: it can make the packaging appearance flat.
The operator panel can be lengthened.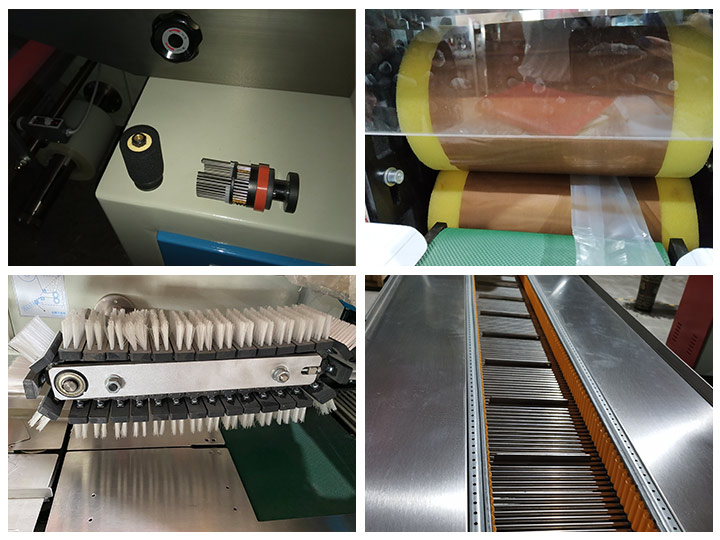 Q&A
How to adjust if the horizontal seal and vertical seal device have the malfunction?
Just adjust the positions of the two pairs of red and blue lines
2. How long objects can be packed with single-blade, double-blade, and bisuit packaging machine?
The range of single-blade packaging is 14-30cm
The range of double-blade packaging is: 10-22cm
The range of three-blade packaging is less than 10cm
The more blades, the faster the cutting speed and the shorter the packaging bag.
3. What kind of coder can I add?
Pillow-type packaging machine allows for ink wheel coding.
4. Is the bag maker adjustable?
Yes, by adjusting the bag maker, different sizes of objects can be packed.
5. Is the cutter speed adjustable?
Yes. There is a special handle to adjust the cutting speed
Working video of the bisuit packing machine
Packaging Sample Display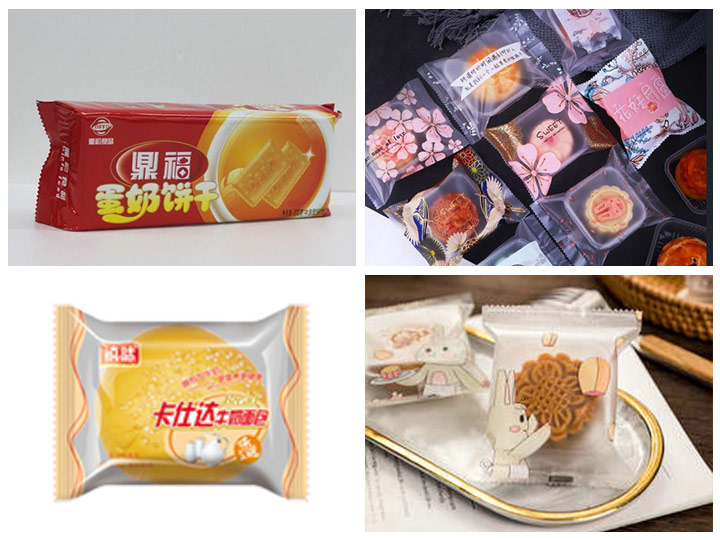 Technical Parameter of the bis Packaging Machine
| | |
| --- | --- |
| Film Width | Max 350mm |
| Bag Length | 120~280mm |
| Bag Width | 50~160mm |
| Product Height | Max. 60mm |
| Capacity | 40-230 bag/min |
| Power | 2.6 kW |
| Weight | 900 kg |
| Dimension | 4020*745*1450 mm |
| note | be able to customize |