Disposable Syringe Packing Machine Sold to Korea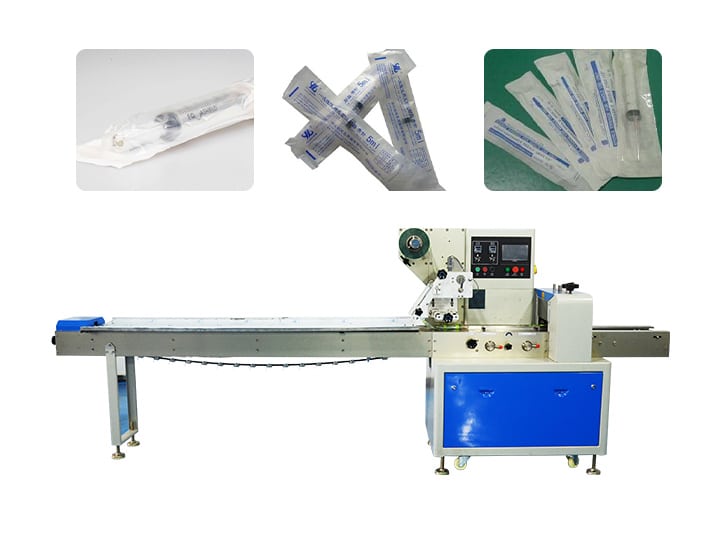 The Overview of Syringe Packing
There are two packaging methods for the syringe, one is nitrogen-filled packaging and the other is vacuum packaging. Nitrogen-filled syringe packaging uses the pillow type packaging machine produced by our factory, and the syringe vacuum packaging uses the stretch film vacuum packaging machine produced by our factory.
A customer in South Korea asked us about the price of a syringe packing machine in June this year. Since he wanted to pack many kinds of medical products, our sales manager recommended a  syringe packaging machine for him. This client opened a medical device company, and he wanted to pack masks, disposable syringes, and other medical products. According to his needs for packaging syringes, our Taizy company customized a pillow-type nitrogen-filled syringe packaging machine for him. The machine has the following advantages. The machine has the following advantages.
Advantages of Syringe Blister Packing Machine
Man-machine interface and it is convenient and quick to set parameters.
High-sensitivity photoelectric eye color mark tracking and digital input of the sealing and cutting position make the sealing and cutting position more accurate.
It has a positioned stop function, no sticking to the knife, no waste of packing film.
The transmission system is simple, the work is more reliable, and the maintenance is more convenient.
PLC intelligent control system, the system is stable, no need to stop to set parameters
Double temperature control meter: vertical sealing and horizontal sealing temperature control, and it can control most packaging films.
Automatic switching of all kinds of languages
Color mark tracking makes cutting more accurate.
It uses a servo motor, which can automatically sense the length of the object and cut itself.
The Function of Disposable Syringe Packaging Machine
The disposable syringe packaging machine automatically takes the packaging film, making bags, sealing, packing, and cutting. It can pack seven to eighty thousand products every day.
Syringe packaging machine adopts special adjustable bag maker, so it better adapt to the current packaging requirements of multiple varieties and specifications. Other medical products that can also be packaged include masks, gauze, syringes, cotton swabs, and infusion sets. It can also pack industrial parts, bearings, metal sheets, hinges, etc.
Syringe Packaging Style
Easy-Tear Device for Single Independent Pouched Syringe Packaging Machine
Easy-to-tear packaging is common in medical supplies, and basically, all disposable medical products have easy-to-tear packaging. It only needs to ensure that the doctor can open the packing bag and use it in a short time because it often saves lives at that moment. But to ensure that the packaging can be easily torn, does it mean that the sealing of the packaging bag is not particularly strong, or that air leakage may occur, leading to the growth of bacteria? Of course not, you only need to add an easy tearing device to the single independent pouched syringe packaging machine.
The Working Video of Pillow type Syringe Packaging Machine